Bitmain pushes back Ethereum ASIC miner, now coming in July
Bitmain's upcoming Antminer E3 delayed to July.

Published Thu, Apr 12 2018 9:19 PM CDT
|
Updated Tue, Nov 3 2020 11:52 AM CST
Bitmain unveiled its first Ethereum ASIC miner with the Antminer E3, with an April release window that has now been delayed into July after the ASICs "weaker-than-expected performance" reports DigiTimes.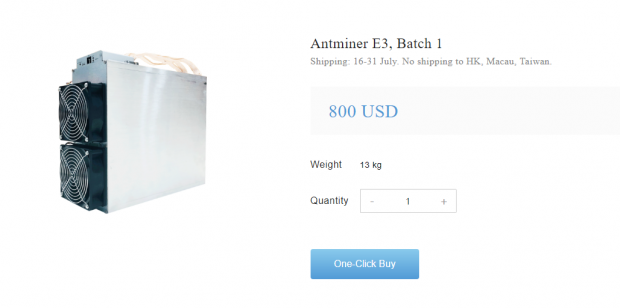 Until now, Bitmain was expected to have full batches of the new Ethereum ASIC miners in late-July, but now the company will ship a small batch in July and the rest of them in Q4 2018 after the company released a refined version of the Antminer E3. The initial Antminer E3 should pump away at 180MH/s, offering the hashing performance of 5 x GTX 1080 Ti graphics cards. The revised one, could be many hundreds of megahashes per second... which would be great.
DigiTimes reports that shipments of the Bitmain Antminer E3 were meant to get close to 2 million units, and even weith the delay Bitman is expected to still reach the same goal according to industry sources. DigiTimes adds: "Bitmain will begin accepting pre-orders for the Antminer E3 in April and will start a small volume of shipments in July. The mass shipments of the ASIC miner are planned for the fourth quarter of 2018 after the release of a revised version of the miner,the sources said, adding the ASIC is manufactured on Taiwan Semiconductor Manufacturing Company's (TSMC) 28nm process".
Bitmain is currently talking with TSMC about manufacturing on their fresh 7nm node, while they are getting their 16nm and 28nm mining and AI chips made. The report continues: "Bitmain's 16nm Bitcoin ASIC orders have recently been shifted from TSMC's Fab 14 in Taiwan to the fab in Nanjing, China as Fab 14 will be upgraded to support a 12nm manufacturing process. The orders are expected to begin shipments in May".
Related Tags