Thanks to its crazy anything-can-happen atmosphere and chaos-inducing open world play ground, Far Cry 5 is the talk of the gaming world right now...and has the sales figures to back it up.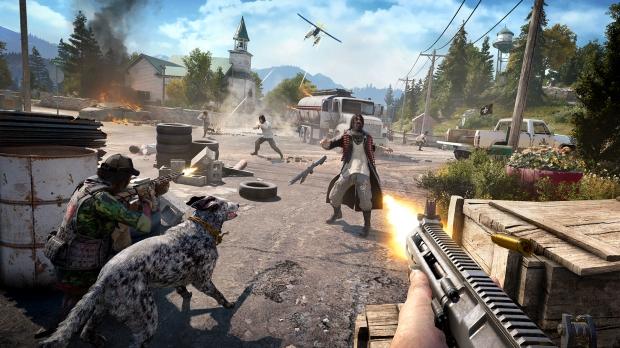 The latest Far Cry game is now the fastest-selling title in the franchise's entire history, Ubisoft today confirmed. The French games-maker was delighted to report that more than 50% of first-week sales were from digital--a trend that's been booming for Ubisoft and other publishers--and that Far Cry 5 more than doubled first-week sales of Far Cry 4.
It gets bigger, though: Hope County's explosive escapades account for the second biggest game launch in the publisher's history by making $310 million in total game spending (full sales, microtransactions, etc) in the first week.
Ubisoft has to be extremely happy about Far Cry 5's performance and has apparently found the perfect way to marry live services with singleplayer-based games. Using optional convenience-only microtransactions, a full online co-op based mode that allows players to tackle the game with their friends, and a new Far Cry Arcade PVP and PVE toolset, Ubisoft has brewed up a nice storm of engagement that should keep gamers playing--and potentially spending--for months to come.
But rather than push microtransactions so hard out of the game, Ubisoft is gearing more towards sales via monetized engagement: the more people play the game, stream it, share it, and talk about it, the more buzz is created and the more sales will be pushed, as evidenced by the strong first-week sales blitz.
Read Also: Ubisoft explains why its focusing on live services
In the same post the publisher confirms Far Cry 5's engagement is strong.
"In addition to the strong first week of sales, record-breaking numbers of people are engaging with Far Cry 5 content. People streamed more than 55,000 hours of Far Cry 5 on Twitch and YouTubers' videos earned more than 117 million views. Both are records for a Ubisoft title in a week following launch, and evidence of the impact user generated content is having in convincing players to join the Far Cry community," the company said in the post.
Far Cry 5's sales and monetized engagement should send Ubisoft's fiscal Q1'19 earnings off to a headlong start.