It looks like NVIDIA isn't finished with the P102 GPU, with CryptoMining-Blog.com reporting on a tip that the NVIDIA P102-100 GPU are going to be "interesting for miners" as they are similar to the P104-100 with a custom configuration on memory and increased performance for those all important hashes.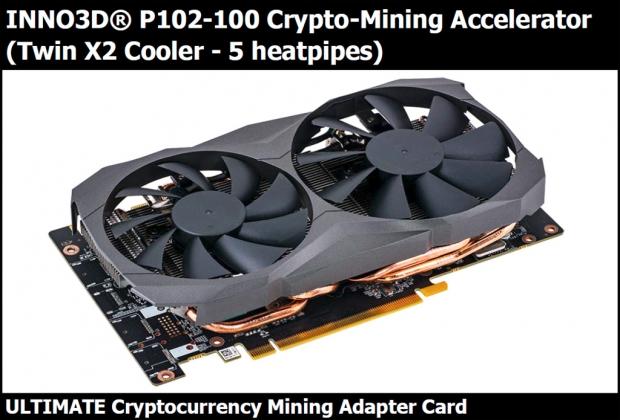 Inno3D will be manufacturing the new P102-100 mining accelerators, which will feature no video output connectors as this is a mining-specific card. The new Inno3D P102-100 will be a mighty powerful mining card, capable of 47MH/s mining Ethereum (a GTX 1080 Ti will reach around 38-40MH/s while the TITAN Xp will push 42MH/s when overclocked).
Inno3D P102-100 specifications:
GPU: P102-100

CUDA Cores: 3200

Base Clock: 1582MHz

Memory Clock: 11 Gbps

Physical Memory Size: 5 GB

Memory Type: GDDR5X

Memory Interface Width: 320-bit

Memory Bandwidth: 400 GB/s

Bus Support: PCIe Gen1 x4

Card Size: 21.5 cm length, 12.5 cm height, dual slot

Max TDP: 250 Watt

Power Connectors: 2x 8-pin PCI-E
Now that we know this bad boy is on its way, my world exclusive article on questioning whether NVIDIA could unveil mining-specific GeForce GTX 2080 cards becomes much clearer. If the older P102-100 can pump out 47MH/s, imagine what a mining-focused GTX 20 series GPU could do with GDDR6.