Qualcomm will enter an entire new level of dominance once they get 5G into the world, but just how fast will those speeds be? We know to expect over 1Gbps, but up to 5Gbps? We're talking over 500MB/sec downloads over a cellular connection and not Wi-Fi, but that is the future.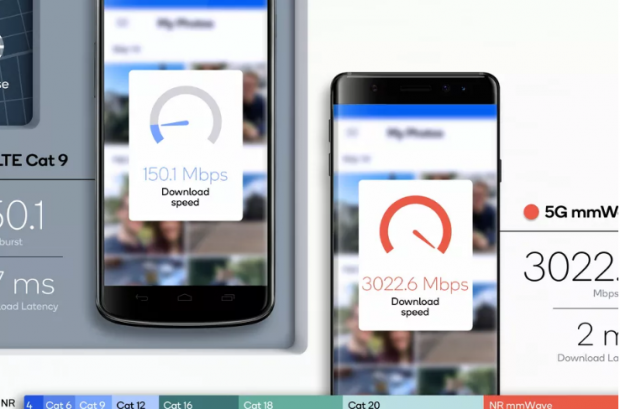 Qualcomm decided to run 5G simulated tests during Mobile World Congress, where they modeled two real-world conditions in Frankfurt, and San Francisco. The locations are based on existing cell sites and spectrum allocations in two popular, and very dense cities.
The simulation took into consideration things like geography, varying user demands on the network, a bunch of different devices with varying levels of LTE and 5G connectivity for different speeds across devices in order to simulate what to expect from a 5G device.
Qualcomm's tests on the Frankfurt simulation leaps from 56Mbps on the existing 4G connection to a mind-melting 490Mbps on 5G, a huge 7x increase in web browsing speeds instantly. Qualcomm expects to see over 90% of users pushing past 100Mbps download speeds on 5G, compared to just 8Mbps on LTE.
But wait for it... the 5G tests in the San Fransisco simulation were mind blowing. Qualcomm saw tests going from 71Mbps on LTE to a huge 1.4Gbps (1400Mbps) on 5G - a huge 23x improvement. Download speeds for 90% of users also jumped by huge margins, driving up from 10Mbps on LTE to 186Mbps on 5G and even up to 442Mbps with median speeds.
5G will be enough to drive 8K 120FPS 10-bit color video, which really... just blows my mind. The final 5G speeds might not be this impressive but even at half or one-third, we're in for one heck of a change next year.