Nintendo Switch momentum as shown in graphs
Nintendo uses some handy visual materials to show just how much steam the Switch is gaining.

Published Tue, Feb 6 2018 3:27 PM CST
|
Updated Tue, Nov 3 2020 11:52 AM CST
Nintendo's latest handheld-console hybrid keeps breaking records, and the games-maker highlights these impressive feats with a few visual aids.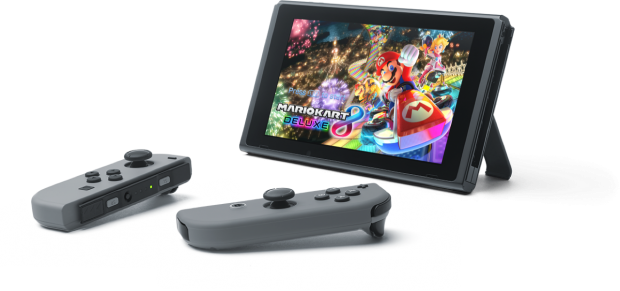 In its latest earnings filings Nintendo predictably announced some big trends for the Switch, namely in hardware sales, software attach rates, and that the console has out-stripped the Wii in its first ten months of sales. "Nintendo Switch is establishing itself at a record pace, with the first 10 months of sales in North America exceeding even those for Wii, which had been our previous fastest-selling home console," Nintendo President Tatsumi Kimishima said in the earnings report.
But it's not enough just to say it: sometimes seeing is believing. Despite having supply issues at the chip level, the Switch has managed to closely follow the Wii's initial sales momentum throughout North America, and even rose above the Wii.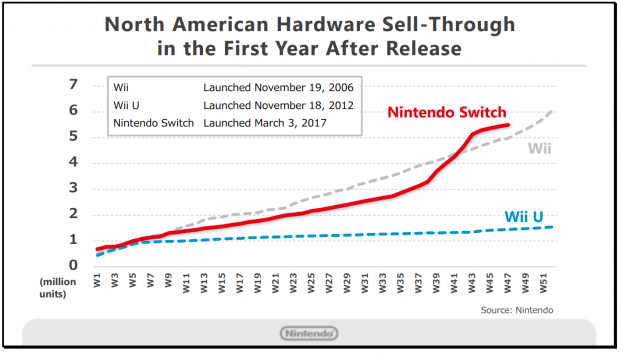 As of December, the Nintendo Switch has sold more than 13 million units worldwide since launch, overshooting its original sales goal of 10 million and nearly achieving its current 14 million sales goal with three months to spare. Company President Tatsumi Kimishima now says he would like cumulative Switch sales to reach 20 million units through the fiscal year ending March 2019. The games-maker is currently in its Fiscal Year 2017 timeline which ends in March 2018.
Games are major drivers for Switch adoption, and rightly so: Nintendo commands some of the most iconic and popular IPs in the entire games industry. Key first-party Switch games like Super Mario Odyssey, The Legend of Zelda: Breath of the Wild, Mario Kart 8 Deluxe, and Splatoon 2 have all enjoyed strong attach rates on the Switch--meaning a huge portion of console owners buy these games.
Check below for a quick look at how the Switch's software attach rate compares with Nintendo's golden-age Wii console: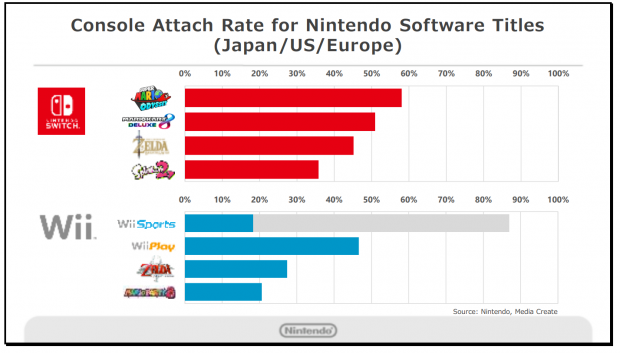 Zelda BOTW - 6 million copies sold

Mario Kart 8 Deluxe - 6.5 million copies sold

Super Mario Odyssey - 7.5 million copies sold

Splatoon 2 - 4.5 million copies sold, strong system-seller in Japan with ~60% attach rate
"As you can see, there were multiple Nintendo software titles available early on for Nintendo Switch, with high attach rates. The expectation is that these software titles will drive hardware sales over the long term and will have long sales lives themselves as the hardware continues to sell," Mr. Kimishima said in the report.
"The presence of multiple popular titles for a game machine influences the purchasing decisions of people considering Nintendo Switch. And consumers who have already bought Nintendo Switch look at these popular titles as candidates for their second and third software purchases. This current state serves as a powerful booster for our hopes of further growth in Nintendo Switch sales in the medium term."
It'll be interesting to see how the Switch continues to blast over the charts in the coming months, and we're really curious what Nintendo's FY2017 earnings will be like.
Related Tags