There is another massive crypto mining boom that has rolled through courtesy of the massive spotlight being blasted onto cryptocurrency (with all the alts bleeding right now), and moreso into crypto mining.

Most crypto miners will look at the Radeon RX 570/RX 580 or GeForce GTX 1060/1070/1070 Ti, but with most of those being scooped up by miners, things aren't looking good. The prices of all GTX 10 series cards have risen, with the GTX 1070 Ti going for around $1000 on Amazon while the higher-end GTX 1080 Ti is $1050 at its cheapest, and up to $1600 for some of the custom GTX 1080 Ti cards from EVGA. Unbelievable.
This means you can get yourself NVIDIA's swanky TITAN Xp Star Wars COLLECTORS EDITION graphics cards for $1500, $100 cheaper than a custom GTX 1080 Ti that it most easily beats. Even for miners shelling out cards at this price, you're better off with the TITAN Xp which pushes 42MH/s mining Ethereum, compared to 35-38MH/s from the GTX 1080 Ti.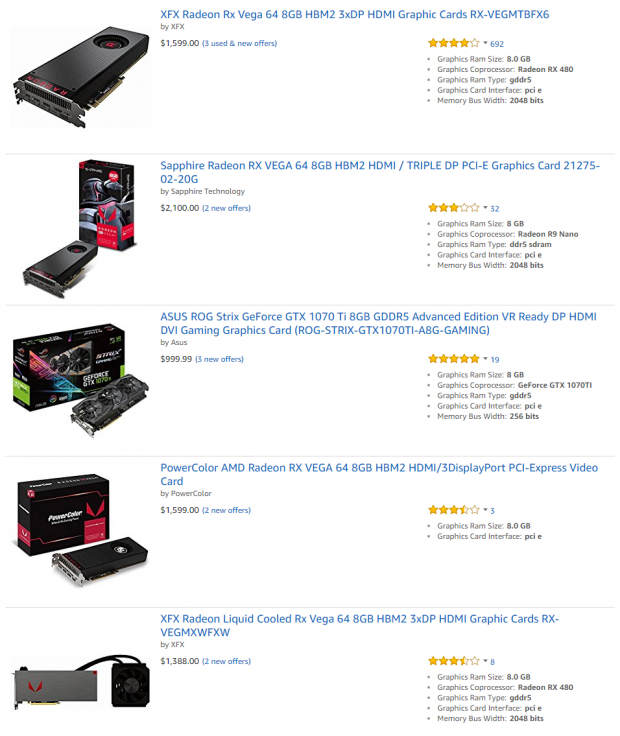 AMD isn't left unscathed from the massive GPU price hike, with prices of the Radeon RX Vega 64 skyrocketing to $1600 from XFX and SAPPHIRE's stock RX Vega 64 costs $2100. The lower-end RX 580s are going for above $600, while the GTX 1060 has reached the heights of $500 and above. This is crazy.
It also doesn't help that AMD couldn't begin to compete in the high-end GPU game, which has seen high-end GPUs only coming from NVIDIA and stock depleting quickly. AMD could've helped by having the Radeon RX Vega succeed and beat the GTX 1080 Ti, but now we're seeing the GTX 1080 Ti become ridiculously expensive as retailers are cashing in on the lack of GPUs.