In the last few hours over $50 billion has been wiped away from the global cryptocurrency market cap, down to just $628 billion (at the time of writing) from its record high of $835 billion on January 7.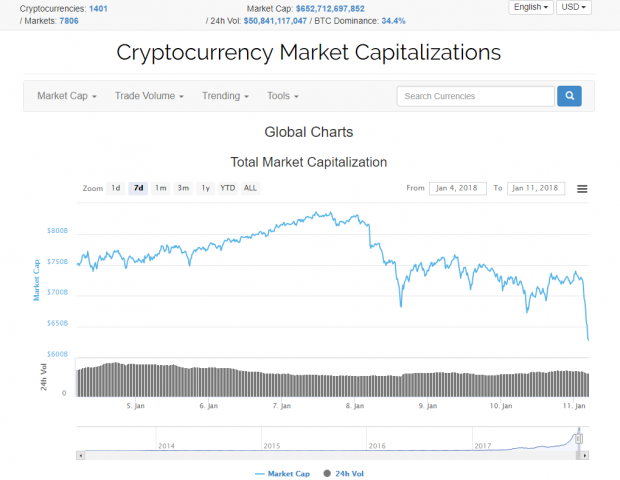 Why the massive drop in cryptocurrency prices? Well, there have been massive stories that the Chinese government will be banning Bitcoin mining in the country, and with 80% of Bitcoin mined in China, this is huge on its own. But then news broke a couple of hours ago from Reuters that the South Korean government was pushing laws in to ban cryptocurrency trading on SK exchanges.
This has seen the drop of virtually every single cryptocurrency, with Ethereum going from its record high of $1400+ to $1230 in a matter of hours.
More Crypto News/Content:
South Korean government preparing bill to ban crypto trading
Chinese Bitcoin miners forced to shut down operations
Ethereum pricing goes nuts, reaches yet another high: $1417
Ripple (XRP) sets a new all-time record price of $3.17
Ethereum closes in on $1000, momentum isn't stopping
Ethereum reaches new record all-time high price of $870
Ripple (XRP) value blows up, bypasses Ethereum's market cap
Crypto expert kidnapped, had to pay $1 million BTC ransom
UnikoinGold is now available on Bittrex
Bitcoin could be worth $0, according to Morgan Stanley
Facebook Messenger malware mines Monero on users' PCs
Using 'blockchain' in new name, company shares rise 500%
MiningSky 8-GPU Mining Rig V1 Review
French dominatrix pimps clients out in 'Crypto Slave Farm'
North Korea hijacking cryptocurrency industry workers
Analyst: Bitcoin on its way to $400,000 - will happen soon