Reddit will have its content integrated into Bing
Microsoft has announced a partnership with Reddit and Bing to bring Reddit content and new AI features to Bings browser.
Published Dec 15, 2017 2:48 AM CST
|
Updated Wed, Jul 27 2022 3:40 AM CDT
1 minute & 18 seconds read time
Reddit co-founder Alexis Ohanian has announced at an AI event that Reddit will be partnering with Microsoft to create AI tools which will integrate Reddit's content into searches on Bing.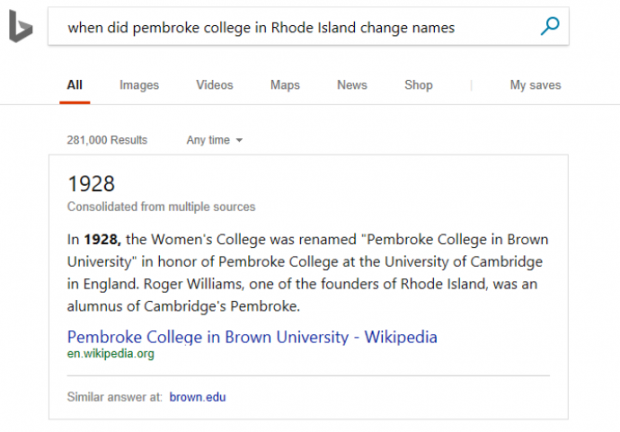 This new integration is a combined goal to develop a feature that is called Intelligent Search, the feature is designed to make the user of Bing feel more at home with the browser by answering questions quickly and promptly.
Intelligent Search will take the comprehensive information regarding your search question and compile all information into one refined answer, the source name for a answer is labeled "Consolidated from multiple sources."
On Bings Blog post they discuss why they are partnering with Reddit and it is mainly due to active users among Reddit's community, 330 million monthly users resulting in a huge 2.8 million comments daily. Bing plan to launch "three initial experiences" they are listed below.
- While already in Bing, when you search for a specific Reddit topic or subreddit, like "Reddit Aww", Bing will surface a sneak peak of the topic with the top conversations for the day from Reddit.
- When searching for a general topic that is best answered with relevant Reddit conversations, Bing will surface a snippet of those conversations at the top of the page so you can easily get perspectives from the millions of Reddit users.
- Bing will be the place to go to search for Reddit AMAs, Q&As with celebrities and every day heroes hosted by the Reddit community. On Bing you can discover AMA schedules and see snapshots of AMAs that have already been completed. Simply search a person's name to see their AMA snapshot or search for "Reddit AMAs" to see a carousel of popular AMAs.
Related Tags