TITAN V benched against GTX 1080 Ti: $2999 versus $699
NVIDIA's new TITAN V benched against GTX 1080 Ti, is 87% faster in Superposition at 1080p.

Published Sun, Dec 10 2017 9:25 PM CST
|
Updated Tue, Nov 3 2020 11:53 AM CST
NVIDIA announced its monstrous new TITAN V a few days ago, an AI/deep learning focused graphics card that costs a whopping $2999. In the usual fashion, benchmarks have now been teased against the GeForce GTX 1080 Ti. A perfect comparison considering the GTX 1080 Ti is $699, and the TITAN V is $2999.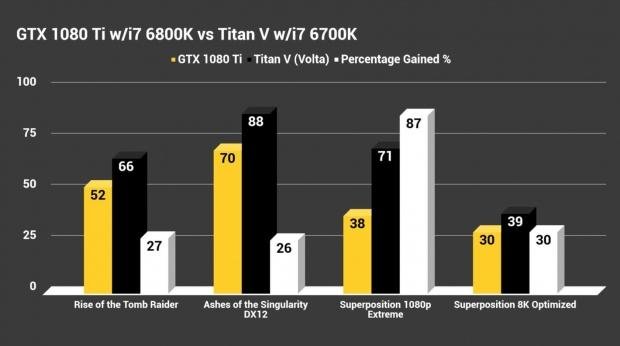 The benchmarks aren't official, and were posted by Reddit user 'MrOmgWtfHaxor' who said they are the results of "someone posting benchmark results in the NVIDIA Discord". The comparison was between a GTX 1080 Ti heavily overclocked under LN2 at a we-won't-see-this-in-the-mortal-realm GPU frequency of 2.5GHz while the new TITAN V was clocked modestly at 1.8GHz.
NVIDIA's new TITAN V was also overclocked by 170MHz which resulted in nearly 10% more 3DMark FireStrike scores, from 32,774 to 35,991. Moving onto Unigine's stressful Superposition test, the TITAN V was capable of 5222 in the 8K Optimized test, while it scored 9431 in the 1080p Extreme presetr. An overclocked GTX 1080 Ti by KINGPIN at 2581MHz (!!!) only scored 8642 in the same test, meaning the TITAN V is an utter monster in comparison to the GTX 1080 Ti.
But what about games? Under the highest settings in 1080p, the TITAN V manages around 66FPS average in Rise of the Tomb Raider, 158FPS average in Gears of War 4, and 88FPS in Ashes of the Singularity. This means that the TITAN V is around 25-30% faster than the GTX 1080 Ti in gaming - all run on an Intel Core i7-6700K processor.
Related Tags