Bitcoin smashes through $12K, getting close to $13,000
Bitcoin is edging on the $13,000 mark after easily smashing through $11K and $12K.

Published Wed, Dec 6 2017 1:27 PM CST
|
Updated Tue, Nov 3 2020 11:53 AM CST
Bitcoin is mooning right now with a new peak price of $12,966 at the time of writing and will most likely hit $13,000 before I finish this article.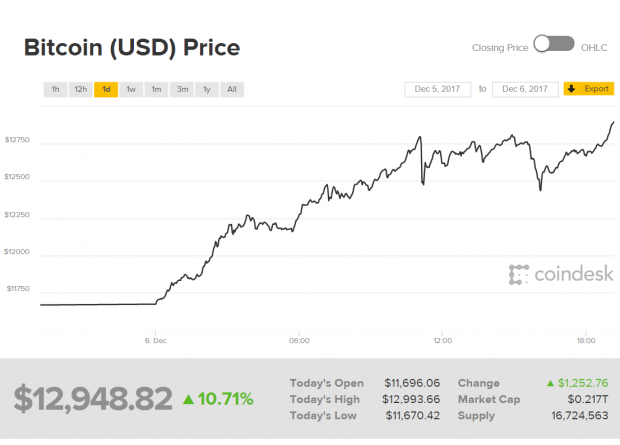 Bitcoin started 2017 off price at $1000 but this meteoric rise in price is unprecedented, a massive 1300% increase in price in just 12 months. I might as well write this post in real-time as the price of BTC has increased to $12,975 and then just now to $12,993. I'll keep writing until it reaches $13,000.
I guess this way you can see that I'm writing this article in real-time while the price of BTC continues to increase. It has dropped slightly to $12,975 but it will only be a few minutes until it hits $13K. The next question I have is, when will BTC reach $15K? It seems like $20K before the New Year isn't a fantasy.
Related Tags