PC version of DOOM compared to Switch, PS4, and Xbox One
DOOM compared on the new Nintendo Switch version, PS4, Xbox One, and the PC.

Published Wed, Nov 8 2017 11:06 PM CST
|
Updated Tue, Nov 3 2020 11:53 AM CST
We all know that the PC is the superior platform for graphics, but a new video that compares DOOM on the Xbox One, PS4 and even the Nintendo Switch, is perfect to get a good comparison between all of the major gaming platforms.
YouTuber ElAnalistaDeBits has the great video, comparing all of the versions of DOOM against each other, with the PC reigning supreme - no surprise there. In all of the comparisons, the consoles look like there's a blurring filter over the game, while the PC version of DOOM is the best by a long shot. id Software did talk up the fact that they built PC-specific features into the idTech 6 engine, DOOM, and Wolfenstein II - and they really show when you see a good comparison like this.
DOOM is a great looking game even when it has the console blur enabled, but it is truly unleashed on the PC. It shows all of the hard work that id Software has put into the PC version, but just makes me wish more game developers did that... made the PC version first and then just blurred and rendered at a lower resolution on consoles to scale it down.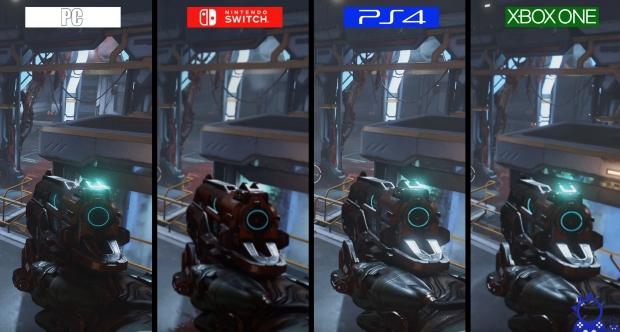 Related Tags