QNAP release the TVS-882BR NAS series
QNAP have teamed up with Vinpower Digital to include a Blu-ray drive for the TVS-882BR series.
Published Thu, Nov 9 2017 5:42 AM CST
|
Updated Tue, Nov 3 2020 11:53 AM CST
Ever thought I could really use a Blu-ray disc drive for my NAS? Well, someone at QNAP clearly has because QNAP have teamed up with Vinpower Digital to integrate Vinpower's industrial-grade Blu-ray optical disc drive in to QNAP's latest NAS, the TVS-882BR NAS series. This NAS will provide the ability to write content from your NAS directly to CD, DVD and Blu-ray optical discs. This provides users with the ability to back-up storage on multiple formats, portable data and just for media playback on their Blu-ray player or DVD player.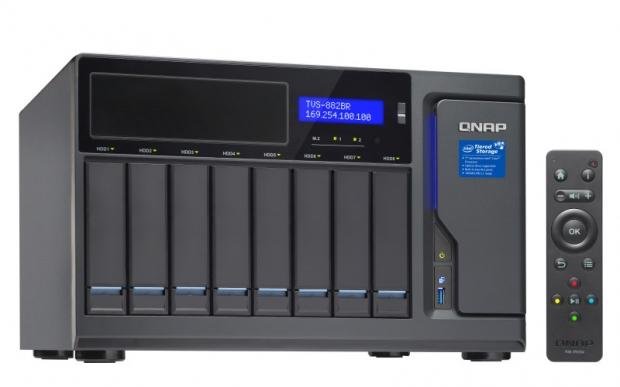 "In the past year, we've seen a number of natural disasters that have destroyed whole communities, making storing content in a single location alone highly dangerous and susceptible to complete data loss," said Ryan Swerdloff, Vice President of Vinpower Digital. "Utilizing the optical disc writer drive on the TVS-882BR series provides an added layer of protection not found on most common NAS back-up solutions. In essence, it's an added level of insurance added to an excellent secure storage solution, similar to getting earthquake or flood insurance on top of your standard home insurance policy. You may never need to use it, but should the worst case scenario happen, you'll be protected and relieved you had it."
The TVS-882BR series is perfect for users with valuable data that want to have multiple formats of back-ups and demand excellent performance from their NAS . This 8-bay NAS is backed by Intel's 7th Generation multi-core processors, two M.2 SATA 6Gb/s slots, triple HDMI output, the ability to transcodes 4K H.264 videos on-the-fly or offline and pre-loaded ODD that allows you to experience extensive disc applications right way.
QNAP's TVS-882BR is available now, for more information visit QNAP's website here.
Related Tags