Call of Duty WWII: other users can see your lootbox rewards
When you open a lootbox in Call of Duty WWII, other players can see what you get.

Published Wed, Nov 1 2017 4:15 PM CDT
|
Updated Tue, Nov 3 2020 11:53 AM CST
Players who redeem lootboxes in the Call of Duty WII "Headquarters" online social space will essentially broadcast the contents of their loot to nearby users, highlighting a very real marketing tactic to incentivize microtransaction purchases.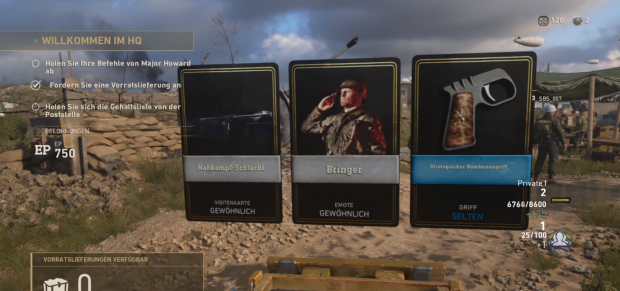 Activision recently caught flak with its microtransaction patent that essentially pushes new players towards lootboxes and/or paid in-game items. Now we're seeing an extension of this with the latest Call of Duty: WWII iteration, which, according to Redditors who received advanced copies, will allow players to inspect the contents of another user's opened supply drop.
This is an ingenious tactic for incentivizing organic monetization within the game's social space. Opening supply drops calls lots of attention in the social space as it is--players can trigger an animation that has a supply crate dropping from the sky into the Headquarters zone, and interested players can apparently approach and see the contents of the drop. The trick here is that gamers can essentially spectate lootboxes openings, thus simulating one of the more powerful "hooks" that popular streamers and content creators use to advertise the game (or their own illegal sites, as in the case of CS: GO Lotto).
Since opening lootboxes such as Call of Duty: WWII's supply drops delivers random results, players typically hold off and investigate to see what the contents actually are. Now they can do that in the game itself without having to leave the experience, which is something that should drive adoption.
Sledgehammer has been careful to affirm that all supply drop contents in Call of Duty WWII are cosmetic-only, and do not have any actual effect stat-wise on gameplay. These drops include things like weapon skins and emotes for players to use.
"All weapon variants and gear variants in Call of Duty: WWII supply drops are cosmetic only, so there are no stat-based variants in play," Sledgehammer Games exec Michael Condry said in a recent Reddit AmA.
"We're also offering players Collections and Collection Bounties, giving a direct path for our community to earn items through all modes of MP and Headquarters play."
Related Tags