PUBG launches on Xbox One in December
PUBG launches on Xbox early access in December, but it'll have limited time paid cosmetics and a separate content timeline.

Published Nov 2, 2017 12:15 PM CDT
|
Updated Tue, Nov 3 2020 11:53 AM CST
Smash hit PlayerUnknown's Battlegrounds is coming to the Xbox Preview Program on December 12, but it'll also herald another limited run of cosmetic microtransactions--and a separate roadmap of content updates.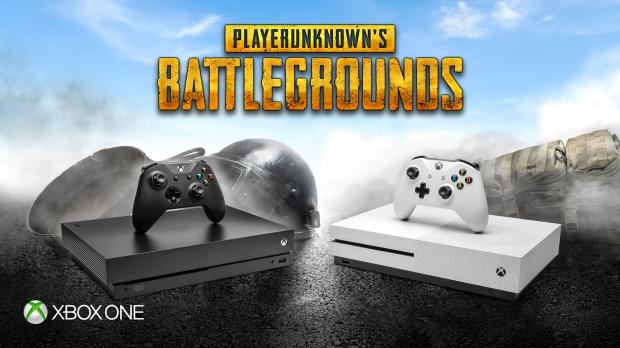 Microsoft announced the news today during its Paris Games Week 2017 showcase, making good on its promise to launch the last-man-standing shooter on the Xbox platform by 2017's end.
"Beginning December 12, Xbox fans will be able to play PUBG while it's still in early access through the Xbox Game Preview program," said Chang Han Kim, CEO of PUBG Corp., the company that was literally made just to handle PUBG.
Since Microsoft invested tons of resources, money, development power and even its own Azure servers for PUBG's Xbox port, the game will be "slightly different" than the PC version, and won't be synonymous with the original. Instead, the Xbox version will have a separate content rollout and some features will be different.
"We're approaching development on Xbox One with the same community-driven focus that we've taken with the game on PC. As a result, the ultimate battle royale experience that fans play on Xbox One will be slightly different than what players know today on PC," Kim said in the announcement post.
"Both versions are being developed at the same time, but they both have their own separate roadmaps. Various Xbox One features and functionality will change and come online over time just like they have on PC, with our goal being to have both versions align to each other as soon as possible."
Relevant: Xbox's next system-seller may be early access titan PUBG
And, of course, PUBG on Xbox will have limited time microtransactions (given Microsoft spent a ton to get the game made, they'll probably reap most of the proceeds). Kim hasn't been clear whether or not this is another test run to see how the system works on consoles, but that's likely the case.
"In celebration of PUBG's upcoming launch on Xbox One, we've collaborated closely with the team at Xbox to create three special, limited-edition cosmetic packs - the PUBG Warrior Pack, the PUBG Accessory Pack and the PUBG Tracksuit Pack. These packs are exclusive to Xbox fans as standalone offers available for a limited time and as there are no plans to feature any in-game purchases in the Xbox Game Preview version, are the only items that can be purchased during the preview period."
With its service-based microtransaction hook and free content updates, PUBG aligns absolutely perfectly with Microsoft's gaming business strategy. The company has been unifying Xbox One and Windows 10 PCs with Xbox LIVE for years now, and has successfully monetized the joint platform to the tune of billions a year.
PUBG will launch on the Xbox One family of consoles on December 12, 2017, and users will need to opt in for the Game Preview Program to get access. No information on the planned retail launch has been announced.
Related Tags