PCIe 4.0 spec released, PCIe 5.0 follows in 2019
PCI-SIG releases PCIe 4.0 specs, should arrive VERY SOON with PCIe 5.0 coming in 2019.

Published Thu, Oct 26 2017 7:44 PM CDT
|
Updated Tue, Nov 3 2020 11:53 AM CST
PCI-SIG, the organization behind the PCIe standard has released the finalized specs on PCIe 4.0, with some highlights that impress. We have up to 16GT/s of bandwidth with PCIe 4.0, up from the 8GT/s of bandwidth offered on PCIe 3.0 - but it's PCIe 5.0 that has my mouth watering with a huge 32GT/s of bandwidth, and will arrive in 2019.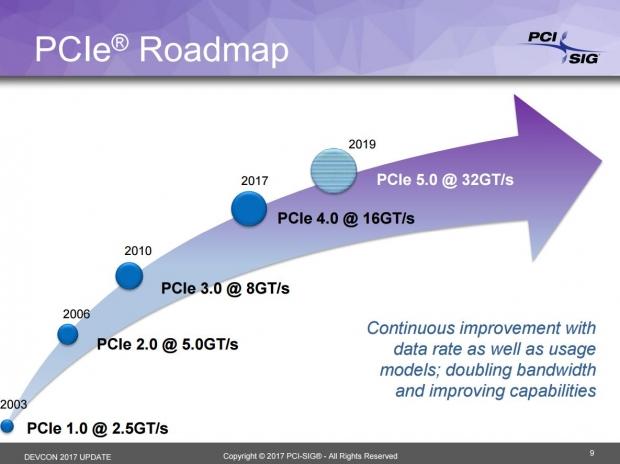 As for the PCIe 4.0 highlights, this is what Chairman and President of PCI-SIG, Al Yanes, had to say:
Extended tags and credits for service devices

Reduced system latency

Lane margining

Superior RAS capabilities

Scalability for added lanes and bandwidth

Improved I/O virtualization and platform integration
What will PCIe 4.0 provide us, other than just ridiculous amounts of bandwidth? As Tom's Hardware points out, PCIe 4.0 will provide the bandwidth to make cheaper NVMe SSDs possible, as they'll need just half the PCIe lanes, while 10GbE connections over a single PCIe lane would be made possible. That kind of speed is impossible right now with limited PCIe lanes.
We shouldn't expect Intel to adopt PCIe 4.0 until at least mid-2019, with AMD announcing support for PCIe 4.0 for sometime in 2020. PCIe 5.0 on the other hand should be finalized before then, with PCIe 5.0 products planned for 2020-2023, which is quite a while away from now.
Once we get to the point of having PCIe 4.0 and PCIe 5.0 on our motherboards, we can start talking about single graphics cards running 4K 120 and 8K 60, as well as super high-end VR/AR/MR technology that will require some truly next-gen GPUs to run at 120FPS or more.
Related Tags