Destiny 2 best selling U.S. game of 2017 so far
Sales tracking firm NPD Group highlights Destiny 2's massive success.

Published Wed, Oct 25 2017 12:32 PM CDT
|
Updated Tue, Nov 3 2020 11:53 AM CST
In just a single month of availability, Destiny 2 is now the best-selling game of 2017 in the United States, and surpassed the original game across physical and digital launches.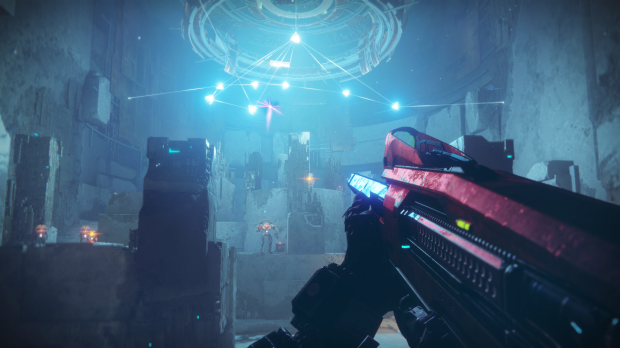 The NPD Group's Mat Piscatella recently announced the firm's September 2017 video game earnings report, highlighting the key trends for the five-week period in September. While the report has a ton of interesting information about gaming's biggest hardware and software earners, Activision will be quite happy to hear that Bungie's Destiny 2 is a huge success in the United States.
"Destiny 2 was the top selling game of September, driving more launch month consumer spend than any other 2017 release to date," The NPD Group's video game analyst Mat Piscatella said. "With one month of sales, Destiny 2 also becomes the best selling game of 2017 year to date, and the third best-selling game of the 12 month rolling period ending September 2017, trailing only call of Duty: Infinite and Battlefield 1."
Mr. Piscatella also notes that Destiny 2 on consoles have beaten the launch-month sales of the previous game--since Destiny 2 is now out on PC, Bungie and Activision stand to rake in a bigger killing on the sequel.
"Destiny 2 combined consumer spend acrss packaged and digital also exceeded the launch month sales of the previous title in the franchise, Destiny, which released in September 2014."
You can find a summary of the NPD Group's September 2017 earnings report below:
Total video game spending in the five-week sales period from August 22 through September 30, 2017, which includes hardware, software and accessories, grew 39% year-over-year to $1.21 billion.
Growth was seen across all segments including hardware, software, and accessories.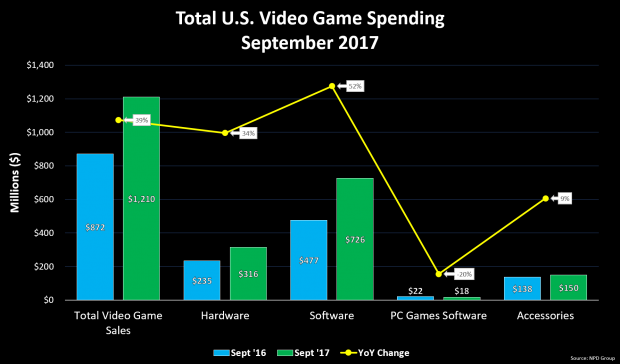 Hardware Earnings
Hardware spending pulled in $316 million, up 34% year-over-year and accounted for 26% of total spend in September 2017.
Hardware spending was driven by the Nintendo Switch and the SNES classic, and higher console sales have offset lower trends in portable gaming.
NPD Group's Mat Piscatella notes that the current $316 million earnings set by hardware mark the highest September earnings since 2014.
"Sony's PlayStation 4 was the best selling hardware platform in consumer spending during September 2017," Mr. Piscatella noted. However, the Nintendo Switch "sold the most units among current-gen consoles during the period."
And the SNES Classic was a massive success in terms of sales: NPD notes it was the "top selling hardware platform in the period."
Software Earnings
Software earnings (which includes console and portable and physical and full game downloads from PlayStation and Xbox platforms) sit at $726 million, up 52% year-over-year and accounting for 60% of total revenue for the monthly period.
Total software--PC, console, and portable--reached $744 million in earnings, up 49% year-over-year. Year-to-date spending is up 7% year-over-year to $3.7 billion.
PC Gaming Earnings
PC games software (physical and full game digital downloads from Steam) pulled in $18 million, down 20% year-over-year, and accounting for about 1.8% of monthly revenues.
Accessories Earnings
Accessories for September 2017 made $150 million in revenues, up 9% year-over-year and accounting for 12.4% of total revenues.
Related Tags