Gaming video to make $4.6 billion in 2017
Gaming video content such as eSports tournaments, Twitch, and YouTube streaming will make over $4 billion in 2017.

Published Fri, Oct 20 2017 12:33 PM CDT
|
Updated Tue, Nov 3 2020 11:53 AM CST
The video games industry's Gaming Video Content (GVC) segment is tremendously lucrative, and according to analyst firm SuperData, it will pull in over $4 billion in 2017.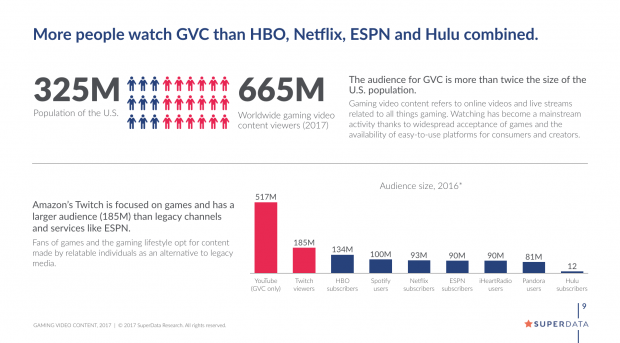 Gaming Video Content is one of the biggest pillars of the current Games-as-a-Service (GaaS) business model that gaming's biggest publishers--Activision, EA, Take-Two Interactive, and Ubisoft--are currently embracing. Service-based games such as Overwatch are built to monetize engagement, which is continually generated via content creators streaming gameplay on Twitch and YouTube, massive eSports tournaments with big payouts, and a steady stream of new content for players to enjoy. Publishers monetize said engagement in a number of ways, including lootboxes and other microtransactions, and, most importantly, through GVC.
As SuperData notes, the main methods of generating revenue through GVC are advertisements, strategic partnerships, subscriptions, donations, and sponsorships--all of which can be monetized via engagement strategies. As more people watch their favorite content creators, the more people play the games, and potentially buy into the monetization path--or simply generate billions in advertisement revenue simply by watching.
SuperData predicts that GVC will pull in an incredible $4.6 billion in revenues in 2017, and attract up to 665 million viewers across the globe. For reference, analyst firm Newzoo predicts the global video games market will pull in $108.9 billion this year. Surprisingly, as the firm notes, "more people watch GVC than HBO, Netflix, ESPN and Hulu combined. Amazon's Twitch is focused on games and has a larger audience (185M) than legacy channels and services like ESPN."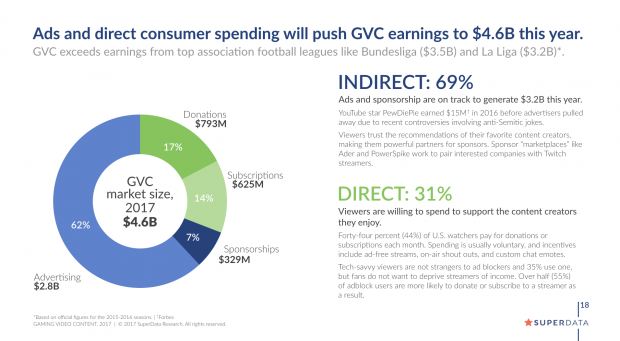 Advertising will predictably make up the lion's share of GVC earnings: SuperData has ads making up 62% of earnings, or $2.8 billion. Subscriptions, which are marked under direct revenue streams, will pull in $625 million or 14% of earnings. The firm says "viewers are willing to spend to support the content creators they enjoy. 44% of U.S. watchers pay for donations or subscriptions each month."
GVC is one of the most important foundations for the industry's most currently lucrative business model, and the segment should only become more crucial as more and more big-name publishers embrace GaaS and form eSports leagues. For example, Take-Two Interactive is currently making the NBA2K eSports League that features teams owned by real basketball players while merging the world of video games and traditional competitive sports in a high-stakes tournament atmosphere.
So not only are lootboxes here to stay, they're only just part of a transforming and ever-growing shift towards digital engagement monetization via games-as-a-service, and as more gamers view more and more gaming video content, publishers will continue finding new and creative ways to engage, entertain, and monetize their audiences worldwide.
Related Tags