Warhammer: Vermintide 2 gameplay trailer released
New trailer also features 2 minutes of gameplay footage with a Q1 2018 release.
Published Wed, Oct 18 2017 8:48 AM CDT
|
Updated Tue, Nov 3 2020 11:53 AM CST
Back in August I posted that Warhammer: Vermintide 2 was announced, with a full reveal in October... Well, Fatshark delivered on their promise and today released a trailer that includes two minutes of pre-alpha gameplay footage, that looks BRUTAL. Check it out below.
As expected, the Skaven hordes are back and have introduced some new friends with them, Choas. The two forces have "formed a pact to plunge the world into death and decay". Fatshark included some more information in the trailer with 15 careers/5 heroes, visceral melee combat, improved loot system, talent trees, new enemies and weapons and more.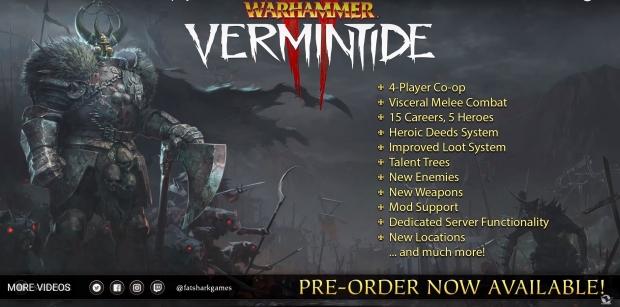 "We have listened to the community, analyzed hours and hours of online playthroughs, and combined this with our passion for co-op games to bring you the very best experience possible," says Fatshark CEO Martin Wahlund.
No precise release date has been announced for Warhammer: Vermintide 2, but Fatshark have confirmed a Q1 2018 release for PC and consoles.
Related Tags