Like other major publishers such as Activision, Electronic Arts, and Ubisoft, Take-Two Interactive, the parent company of Rockstar Games, 2K Games, and Gearbox Software, uses recurring monetization streams via microtransactions and in-game purchases to act as safety nets in case new IPs backfire.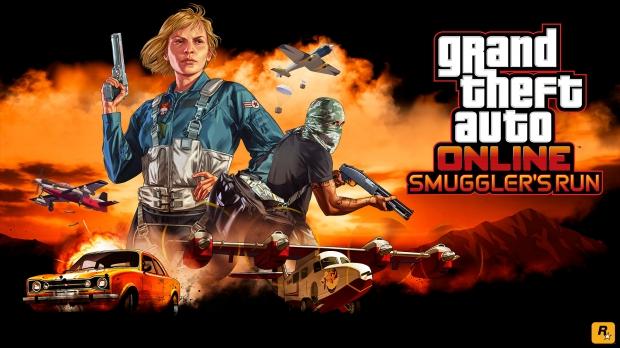 Making AAA games costs a lot of money--sometimes even $100 million--and publishers are typically risk averse when it comes to new IPs. But some publishers, like Ubisoft, have used new IPs as a gateway for a new interactive digital business model and have tremendously benefited from taking that risk. But Ubisoft's new IPs and digital games all have one thing in common: they're monetized via in-game purchases. This isn't a mistake: if, say, For Honor tanked, Ubisoft could buffer the loss with microtransaction earnings from a successful game like Ghost Recon: Wildlands or Rainbow Six: Siege. This is part of the biggest and more lucrative digital strategy the games industry is currently following, and will be a big part of gaming's future because of the tangible benefits it offers.
Take-Two Interactive CEO Strauss Zelnick recently spoke out on the topic, discussing the merits of microtransactions and how they help big publishers make key decisions. If it weren't for the big billion-dollar treasure trove of earnings from GTA Online's microtransactions over the years (analyst firm SuperData says GTA Online has made over $1 billion in earnings to date), Take-Two (and more specifically Gearbox) would've been hit a lot harder by Battleborn's failure. And if it weren't for those recurring revenue streams, which continually bring in money, Battleborn may not have been greenlit in the first place as the publisher would be more risk adverse than they already are.
"It's vastly more risky to create new IP than it is to create sequel IP. The problem is if all you do is create sequel IP you're burning the furniture. And it's not creatively all that interesting. We don't see that as pursuing or fulfilling our mission if we're not launching new IP," Take-Two Interactive CEO Strauss Zelnick said at Goldman Sachs' 26th Annual Communicopia Conference.
"Every one of our divisions is working on new IP, to a greater or lesser extent, and we expect to bring new IP to market. But we have to be selective because if we do it and we get it wrong, it's very costly. And again we have gotten it wrong occasionally and it has been costly."
Read Also: GTA Online earns big for Take-Two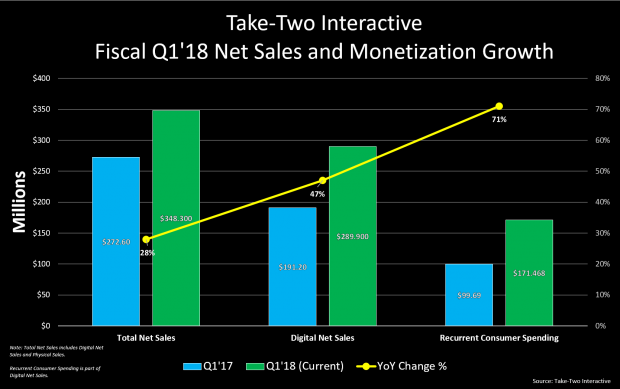 Take-Two Interactive reported massive growth in recurring consumer spending (microtransaction earnings) in fiscal Q1'18.
Mr. Zelnick goes on to highlight how the company attempts to solve a very real industry-wide dilemma that all major publishers face: how do you make money while mitigating risks on new IP? Creating new IP is essential to foster growth in the industry, and Take-Two actually sees making new IP as an obligation--not an option.
Microtransactions are a big part of that, as is catalog sales from older games. For example, GTA V continues to sell immensely well even four years after launch, partly because of the online GTAO component, but it absolutely doesn't hurt that the story mode is immensely quality-driven.
"So...how do we square that circle? Hire the best and brightest and only pursue the properties they're the most passionate about, and then try to create them as efficiently as we can and then market them as well as we can," Mr. Zelnick said.
Talent is incredibly important, but having a future-proofed business model is absolutely essential for long-term growth. As the video games industry moves towards digital, so too are publishers, and they're embracing business strategies that cast a wider net. Service-based games that're driven by engagement are now the norm, and publishers are exacting key strategies to monetize off of that engagement. Games are being made to last 2-5 years rather than 1-2, and their lifespans are stretching farther as a result of recurring revenue streams.
"The good news is that as we get bigger with catalog, with recurrent consumer spending in content like Grand Theft Auto Online, when we have enough success from sales and cashflow from operations, then we can survive the risks associated with generating new IP even if they go against us."
Even in the face of potential losses, the CEO discussed how new IP is essential to growth, and how over-monetization can actually eat away at the core of the IP or franchise.
"I see it as our obligation to create new IP," Mr. Zelnick said during the event.
"We've a great business. We have a lot of hit IP. We make real money pursuing that business. The last thing we want to do is in a greedy effort to monetize around the edges and risk hurting the IP at the core."
"In anything that looks like free-to-play, you typically monetize less that 10% of your audience--maximum 20%. This makes for a very challenging business, and it's not a traditional entertainment model."
Read Also: Video games industry to earn $108.9 billion in 2017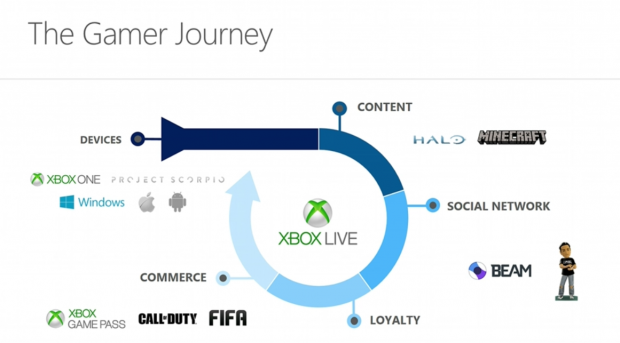 Microsoft outlines an example of the engagement business strategy, and illustrates how Xbox LIVE, not Xbox consoles, are now the center of its Xbox gaming brand.
As a result of this revenue model, Take-Two Interactive has strongly fortified its position at the top spectrum of the games industry, and remains a pillar of the interactive entertainment business as a whole.
Critics could argue that Take-Two has already over-monetized with GTA Online's strong tail, and that its push towards monetized Shark Cards and in-game currency are exploitative; others bring to mind the most recent NBA 2K18, which pushes players towards buying in-game currency and has a voracious appetite for gamer's dollars.
Even as critics and large swaths of gamers speak out against lootboxes and microtransactions, they remain a key part of the games industry that do a lot of good. But like anything that does good, microtransactions can easily be twisted into something that's psychologically exploitative.