Blizzard ban World of Warcraft cheaters
Blizzard suspend accounts for up to 18 months for using third-party software to teleport, use scripts and automated bots.
Published Tue, Oct 17 2017 3:25 AM CDT
|
Updated Tue, Nov 3 2020 11:53 AM CST
Following Epic Games stance on cheaters, Blizzard have been busy themselves with regards to punishing cheaters, specifically targeting World of Warcraft players who use third-party software to cheat.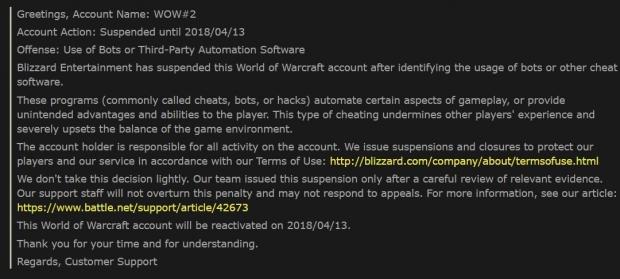 No figure of how many accounts were suspended, but repeat offenders were dealt with bans up to 18 months while first time offenders were given 6 months. Blizzard have developed a method to detect cheaters using WoW bot software Honorbuddy as the 'ban section' of their forums have been FLOODED with posts. Honorbuddy released a statement via their forums confirming that their 'bot/tool' had been detected.
It appears as if Honorbuddy isn't the only software that was detected, with several other third-party software also being detected. These programs allow players to instantly teleport around the map, scripts to help them in combat and even fully automated bots which operate on behalf of the player.
Blizzard sent out emails to affected accounts and a copy has since surfaced on Reddit. In the email, Blizzard state that the account has been banned "after identifying the usage of bots or other cheat software," and that "this type of cheating undermines other players' experience and severely upsets the balance of the game environment."
Related Tags