Intel to launch second-gen Optane 900P SSDs very soon
Details on Intel's second-generation Optane 900P SSD arrive - could it even be supported on AMD platforms?
Published Tue, Oct 10 2017 4:59 PM CDT
|
Updated Tue, Nov 3 2020 11:53 AM CST
Correction: first generation Optane M.2 modules used x2 PCI-E 3.0 lanes, and not x4 PCI-E 2.0 lanes as originally reported.
Leaked slides and inside industry contacts have hinted that Intel's second generation of Optane drives, the Intel 900P series, will launch around the end of this month. The 900P series will replace the Intel 750 series of NVMe drives and will come in the U.2 and AIC (PCI-E card) form factors. While the first generation of consumer Optane drives used a PCI-E 2.0 interface, this new generation will use PCI-E 3.0. The 900P has roughly the same specifications as Intel's enterprise P4800X, which costs almost $2000 for 375GB. The new 900P series drives will come in 280GB, 480GB, 960GB, and 1500GB variants, and will be aimed more at consumers rather than enterprise users, which hopefully means much more affordable prices (enterprise is typically overpriced by a large margin).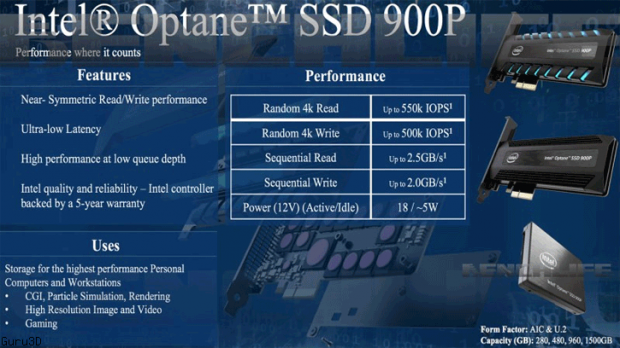 Optane offers random read speeds far greater than those of NAND flash, making it an excellent NAND replacement. The current Optane series provides 1.35 GB/s and 290 GB/s sequential (large files) read/write and 240,000 IOPS read/write for random performance (which matters more for OS). The new 900P should boast 2.5GB/s and 2GB/s sequential read/write speeds and up to 550,000 and 500,000 IOPS read/write for random performance, which is a huge increase over its predecessor.
The first generation of Optane came in 16GB and 32GB variants which could only be used with select chipsets and CPUs. There are unconfirmed rumors and clues all around us that Intel's 900P might not even be limited to Intel's platforms, and might be capable of working in an AMD X399 motherboard. Our first clue is that these units are designed in the U.2 and PCI-E (AIC) form factors, meaning they are built for HEDT systems with many PCI-E lanes. AMD's X399 platform would be a perfect home for a more affordable super-fast Optane AIC.
Our second clue is that vendors have made an effort to implement U.2 ports into some of their X399 motherboards. There is currently only one readily available U.2 drive for the consumer, the Intel 750 series of drives, the same series Intel's 900P is replacing. We knew that Intel would continue to use U.2 for its high-end consumer drives, and the fact that U.2 exists on X399 means that it's possible that the 900P could be compatible.
Related Tags