Western Digital announce HGST Ultrastar Hs14 - 14TB HDD
WD brings us the worlds biggest hard drive that has a capacity of 14TB.
Published Wed, Oct 4 2017 5:26 AM CDT
|
Updated Tue, Nov 3 2020 11:53 AM CST
Western Digital have announced the world's first 14TB harddrive, the HGST-branded Ultrastar Hs14. Perfect for cloud-storage and hyperscale data centers, the HGST Ultrastar Hs14 combines HelioSeal and host-managed shingled magnetic recording (SMR) technology to offers 40 percent more capacity and more than twice the sequential write performance of its SMR predecessor and features a 2.5million hours MTBF rating.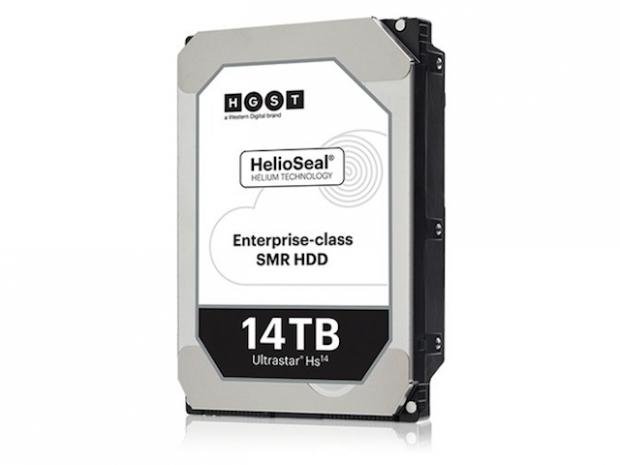 This 3.5-inch HDD helps address Big Data challenges and the emerging sequential write workload segment in data centers by focusing on total cost of ownership (TCO). Prioritizing key factors including capacity per rack, power consumption, cooling, maintenance, and acquisition cost, the combination of SMR and HelioSeal Technology is able to deliver impressive watt/TB power efficiency, resulting in a low TCO. These mature, field-proven technologies provide the foundation for delivering efficient, quality and reliable performance required by cloud-storage and hyperscale environments.
"Over 70 percent of the exabytes Western Digital ships into the capacity enterprise segment are on helium-based high-capacity drives and continue to support customers with outstanding reliability, performance and value Quality of Service (QoS)," said Mark Grace, senior vice president of devices at Western Digital. "The TCO and reliability benefits of our HelioSeal platform are the foundation of our leadership in high-capacity enterprise storage."
Featuring a 5-year limited warranty, The HGST Ultrastar Hs14 is available in SATA or SAS models and is currently sampling to select OEMs. Price and availability are yet to be confirmed.
Related Tags