French conglomerate Vivendi, who's vying for a take-over of hit games-maker Ubisoft, has once again abstained from voting in the video games publisher's annual shareholders meeting.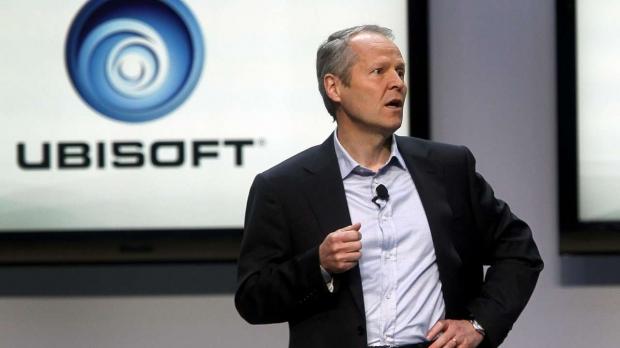 The results for Ubisoft's 2017 general shareholders meeting are in, and they show that Vivendi has once again opted not to show up for the proceedings. Vivendi is currently pushing to buy out Ubisoft by slowly accumulate share capital and voting rights, and currently sits on the largest pool of share capital owned by one stakeholder at 26.63%. The company also has a huge stockpile of voting rights, but has yet to implement them at a shareholders meeting due to bad blood (to say there's bad blood between Ubisoft and Vivendi is a massive understatement).
Vivendi's absence for Ubisoft's 2017 general shareholders meeting stamped a 29.99% "abstain" vote on every single resolution drawn up by the publisher, including Extraordinary Resolution 31 that would've granted all Ubisoft employees free company shares. The resolution was the only measure that failed to pass; combined with Vivendi's nearly 30% abstain vote, 9.98% of attending shareholders voted against the resolution. The Guillemots drafted the resolution in an attempt to fortify employee faith and goodwill in the company, and Ubisoft's leaders' calls on Vivendi to help the measures pass went unheeded.
This marks the second shareholders meeting Vivendi has purposely missed, stating that it refuses to vote in any proceedings until it is elected to Ubisoft's board of directors--an invitation that will likely never happen as long as the Guillemots hold power. "Vivendi regrets that, in defiance of all logical corporate governance, it has not yet been invited to be a member of the board of directors, even though it is the largest shareholder, with 26.63% of the share capital," the company told Fox Business.
Read More: Unfurling the Vivendi vs Ubisoft saga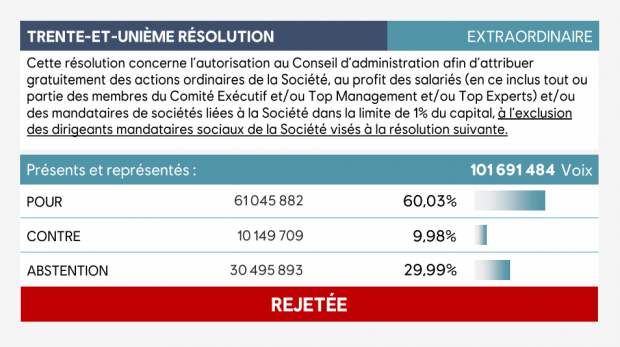 Extraordinary Resolution 31: This resolution concerns the authorization of the Board of Directors to allocate free of charge ordinary shares of the company for the benefit of the employees (including all or some of the members of the executive committee and / or top management and / or top experts) and / or directors of companies related to the company, up to a maximum of 1% of the capital, excluding the executive directors of the company referred to in the following resolution.
Experts believe that Vivendi will make a formal move to take over Ubisoft within the year. This hostile move could happen in November thanks to France's Florange Law, which effectively doubles the voting rights of a stakeholder as long as they've held onto the stake for two years unless two-thirds of shareholders vote to overturn it.
But the takeover won't come cheap: Vivendi may have to pay a premium of $6 billion to take Ubisoft.
Ubisoft CEO and co-founder Yves Guillemot warns Vivendi that taking over the company would be very risky simply because video games publishers are in a unique industry position that require innovation and mobility. Being bogged down by red tape from a conglomerate could stifle the creativity and speed needed for Ubisoft to flourish.
In short, this would be a "death sentence in our industry," Mr. Guillemot said.
"A videogame company cannot grow within a media conglomerate," Mr. Guillemot said in an interview before the annual meeting, as reported by Bloomberg. "In our industry, independence is needed to take risks, to be innovative. That is not compatible with Vivendi's way of operating."