Square Enix commits to games as a service business model
Final Fantasy publisher is keen on staying at the bleeding edge of industry trends by embracing service-based games.

Published Mon, Sep 25 2017 5:42 PM CDT
|
Updated Tue, Nov 3 2020 11:54 AM CST
Square Enix says it will create more service-based games, hinting mainline Final Fantasy games will no longer be one-off singleplayer experiences, but sprawling, ever-changing and updated games like Final Fantasy XV.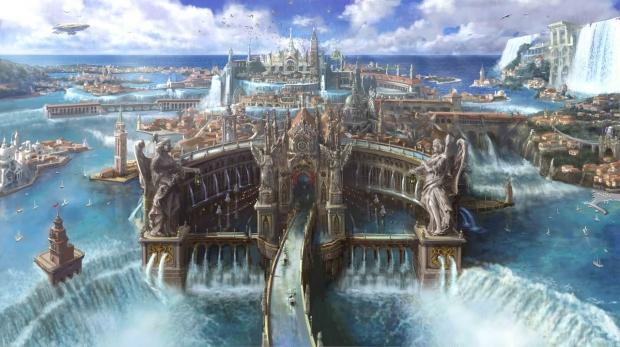 Not long ago I said that Final Fantasy XV was the new Skyrim. My point was that Final Fantasy XV, like Skyrim, was being ported on every available platform via re-releases. And like Skyrim (thanks to mods), Final Fantasy XV has become a live game of sorts that's continually changing over time with content updates and expansions. The real difference is that its Square Enix, not modders, who are pushing out FFXV's content. In fact, Final Fantasy XV is now an IP within an IP; the publisher has made the Final Fantasy XV Universe, which includes a galaxy of mobile games, the PS4 and Xbox One versions, season pass DLC, a stream of updates, a Switch and PC port, and a number of transmedia releases like an anime and a CGI film.
All of this (and more) is evidence that Square Enix isn't only betting big on games-as-a-service, but it's fully embracing it. This focus goes past the normal service games like Final Fantasy XIV and Dragon Quest MMOs--it's bleeding into once-singleplayer games. Even Final Fantasy XV is getting a built-in MMO-like online multiplayer component. And the publisher is only just getting started.
Square Enix President Yosuke Matsuda says that the publisher is fully committed to games-as-a-service (GaaS) and the team will continue developing games designed to be played over a long period of time.
"Games as a Service is a concept that is often mentioned recently in HD game contexts. Gone are the days in which single-player games were of primary status and multiplayer games secondary. Lately, multiplayer games have taken the lead, and it is standard for games to be designed for long-term play," Mr. Matsuda said during Square Enix's 2017 Annual Report.
"The terms "multiplayer" and "Games as a Service" themselves have existed for some time, but they are now being used in reference to game designs that place a strong emphasis on longer-term user engagement. We will also endeavor to develop games designed not to be played once after launch but that customers can enjoy more and play longer. In so doing, we will increase customer satisfaction and enhance the lifetime value of the games themselves."
Read Also: Square Enix possibly prepping unified digital game store
The company president is also interested in tackling digital online engagement via game streaming, which is mostly facilitated by games with a "hook"--monetized multiplayer games like Overwatch, PlayerUnknown's Battlegrounds, League of Legends, etc are all massively popular streaming choices that all contain a "hook" that reels viewers--and subsequently players--in. These games generate significant revenue with eSports competitions where professional players compete for the chance at winning seven-figure prize pools. eSports is very lucrative and is expected to pull in $1.13 billion in 2017, according to analyst firm SuperData.
"Game play streaming has been another major trend in recent years," Mr. Matsuda said, iterating that the publisher wants to embrace this segment too. "Watching the advanced techniques of professional gamers and the unique broadcasts of game streamers is another way to enjoy games. Watching gaming is growing into a major form of entertainment thanks to considerable advances in the online streaming environment."
"It is the presence of e-sports spectators that make this meaningful. Once the size of gaming spectatorship grows, gaming itself will gain value as a form of media. This conversion of gaming into a form of media is proceeding rapidly. We also have a great deal of interest in this field and intend to proactively work to turn it into an actual business."
What this means for future Square Enix games
So what does this mean for Square Enix's future releases?
Essentially expect to see more emphasis on online-based experiences, possibly multiplayer shooters with monetization and streaming plugs, as well as a slew of free-to-play games across mobile devices and browsers. Square Enix could team up with major eSports divisions and create their own unique IP or even leverage existing IP and transform it into a competitive online experience with an engagement flywheel similar to League of Legends, Overwatch, etc.
I believe that Final Fantasy Dissidia NT could be a major contender for eSports.
And we should see more of Square Enix's singleplayer games evolve into "live services" of sorts, mirroring the constant updates pushed out for Final Fantasy XV. We should also see more monetization opportunities for all games, whether they be in-game purchases like microtransactions, season passes, DLC, or expansions.
Of course we should expect the publisher to put lots of effort into the games it puts out and retain that high quality look and feel its games are known for. I expect Square Enix to experiment more, but it will also pay close attention to emerging industry trends, and such experiments and tests won't be taken lightly.
Basically it just depends on the publisher's timeline. How soon does Square Enix plan to embrace these models? Will we see an eSports-based game in the next year or so? Remember that these companies typically develop five year plans that change and update over time, so nothing's set in stone.
I'm just curious what this means for the future of Final Fantasy, and how soon we'll see lootboxes for materia, Zell Dincht tattoos, or Buster Swords within the games.
Related Tags