Steam introduces Histograms to prevent review bombing
Histograms represents daily data of positive and negative reviews for the user.
Published Thu, Sep 21 2017 7:25 AM CDT
|
Updated Tue, Nov 3 2020 11:54 AM CST
In wake of Steam's Review system being abused by gamers due to Dota 2 being blamed for killing Half Life 3 and gamers supporting PewDiePie regarding Campo Santo's DMCA, Valve have made some changes in how Steam's game reviews work. Valve hope to prevent incidences like the two mentioned don't reoccur as those reviews don't provide a true reflection of the experience with the game.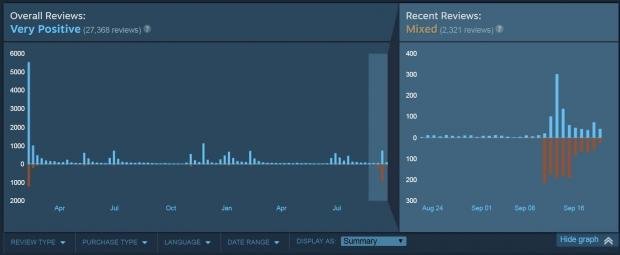 Valve have immediately introduced a new feature called Histograms, a feature that shows a histogram of the positive to negative reviews since the game was released on a daily basis. This data reflects dramatic increases in positive or negative reviews from a certain period, indicating a time where possible outside influences (eg. No Half Life 3 or Campo Santo's DMCA) have affected reviews. You can isolate days to read particular reviews for the day, or days of your interest.
"Starting today, each game page now contains a histogram of the positive to negative ratio of reviews over the entire lifetime of the game, and by clicking on any part of the histogram you're able to read a sample of the reviews from that time period," Steam UI designer Alden Kroll said in the Steam blog.
Valve also considering other possible solutions such as locking the ability to review certain games until a certain amount of time was played. Histograms was the final choice due to it allows the user to give feedback about the game.
Related Tags