Phison's new SSD line-up featured at FMS 2017
We have full details and some early benchmarks on Phison's new SSD controller line-up that was featured at FMS 2017.

Published Fri, Sep 8 2017 12:21 PM CDT
|
Updated Tue, Nov 3 2020 11:54 AM CST
Even though Flash Memory Summit 2017 was cut short by a fire on the showroom floor, TweakTown was able to take a close look at some of Phison's upcoming SSD technology. We even got a chance to bench the Phison E8 in our hotel room using our own test equipment. The main star of the show for Phison is their soon-to-be-released, value-oriented Phison E8 NVMe SSD.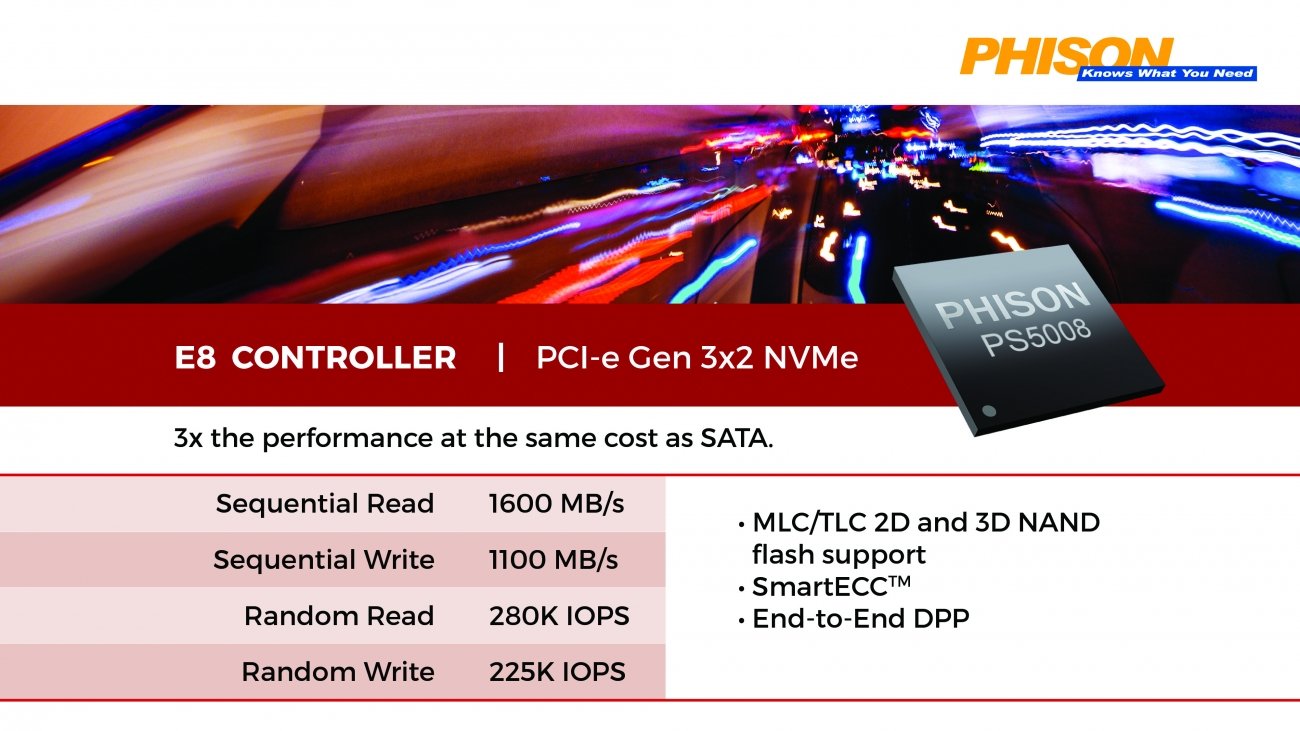 The E8 isn't designed to compete for any performance crown; it is designed to compete for the value crown. E8-powered SSDs will deliver 3x the performance of typical SATA SSDs for around the same cost. Even though the E8 is only a two-lane controller that is very power efficient, it packs a big punch. In fact, the E8 cranks out enough performance to take on Intel's popular 600p series of value SSD, and Western Digital's Black series, even though they are both 4-lane PCIe SSDs. At first, we were a bit skeptical that a 2-lane E8-controlled SSD would be able to match the performance of the 600p or the WD Black. That was until we benched it.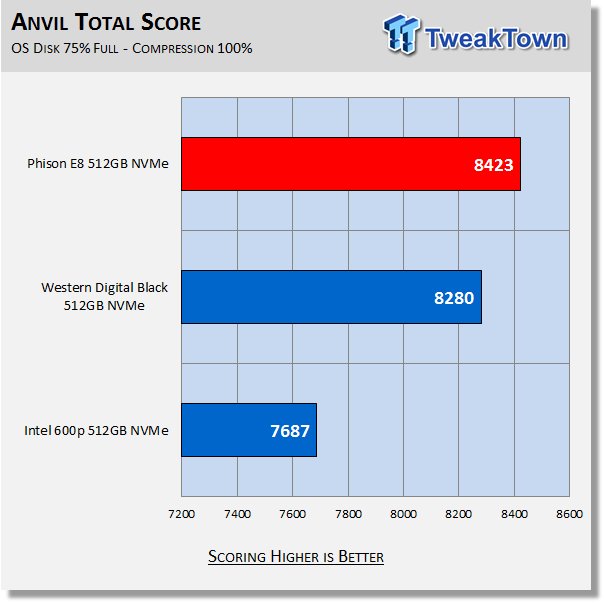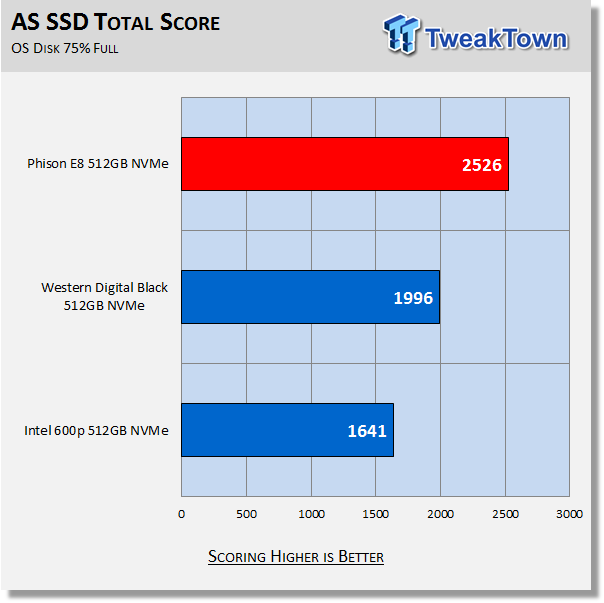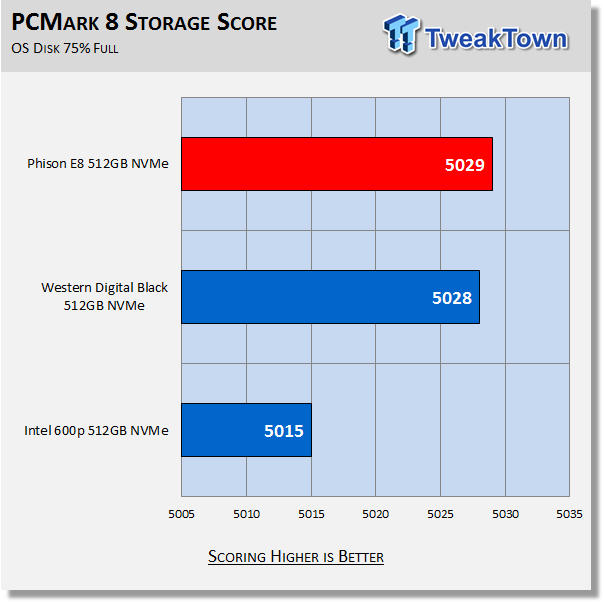 As the above benchmarks demonstrate, the 512GB E8 SSD that we benched actually outperforms the 512GB 600p and the 512GB WD Black. Phison intends to offer their E8 SSDs for around the same cost as SATA-based SSDs, so the E8-powered SSDs should be priced below the 600p and the WD Black.
Additionally, Phison will bring an E8 variant to market designated the E8T. E8T-powered SSDs will be even lower cost and more power efficient than E8-based SSDs because they will be DRAM-less designs.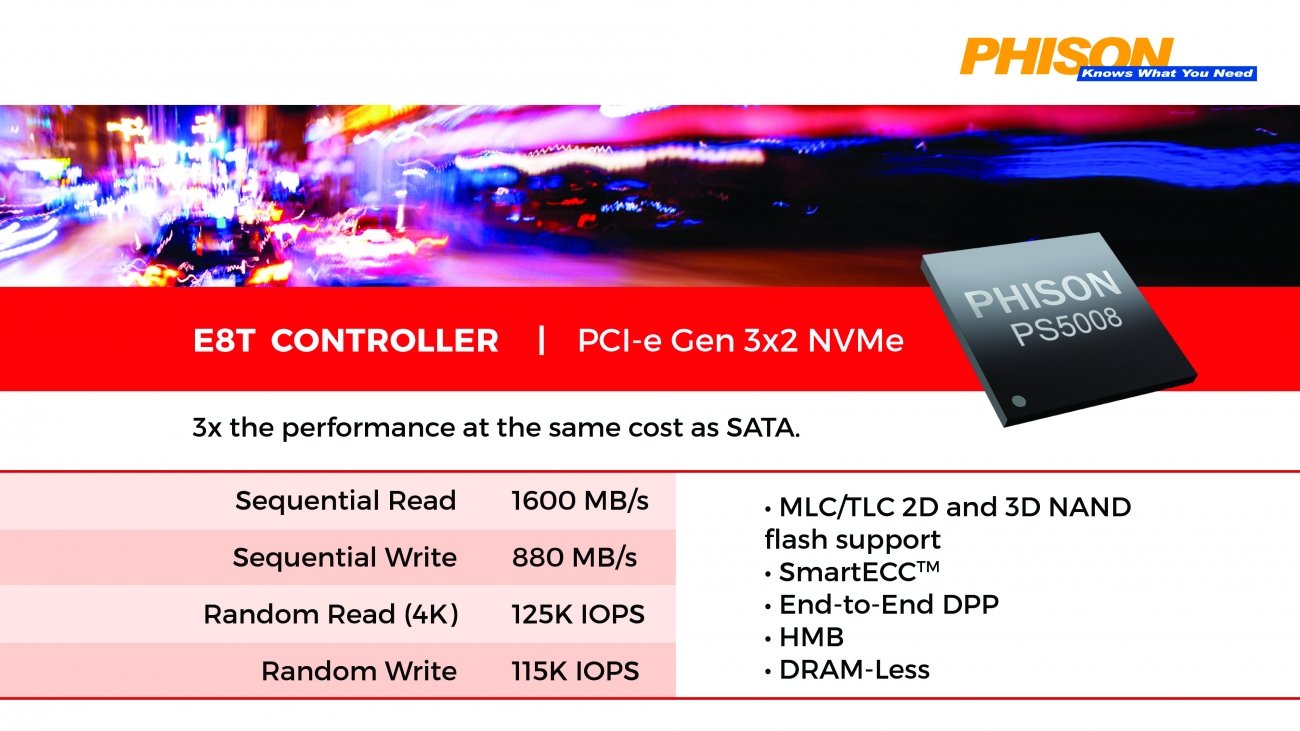 The DRAM-less E8T features HMB (Host Memory Buffer) technology. HMB uses a tiny bit (about 32MB) of host system memory to cache address tables which allows for DRAM-less SSDs to perform at a high level while at the same time keeping manufacturing costs to a minimum.
Phison isn't ignoring what we at TweakTown care most about either. Have a look at the upcoming E12 controller specs: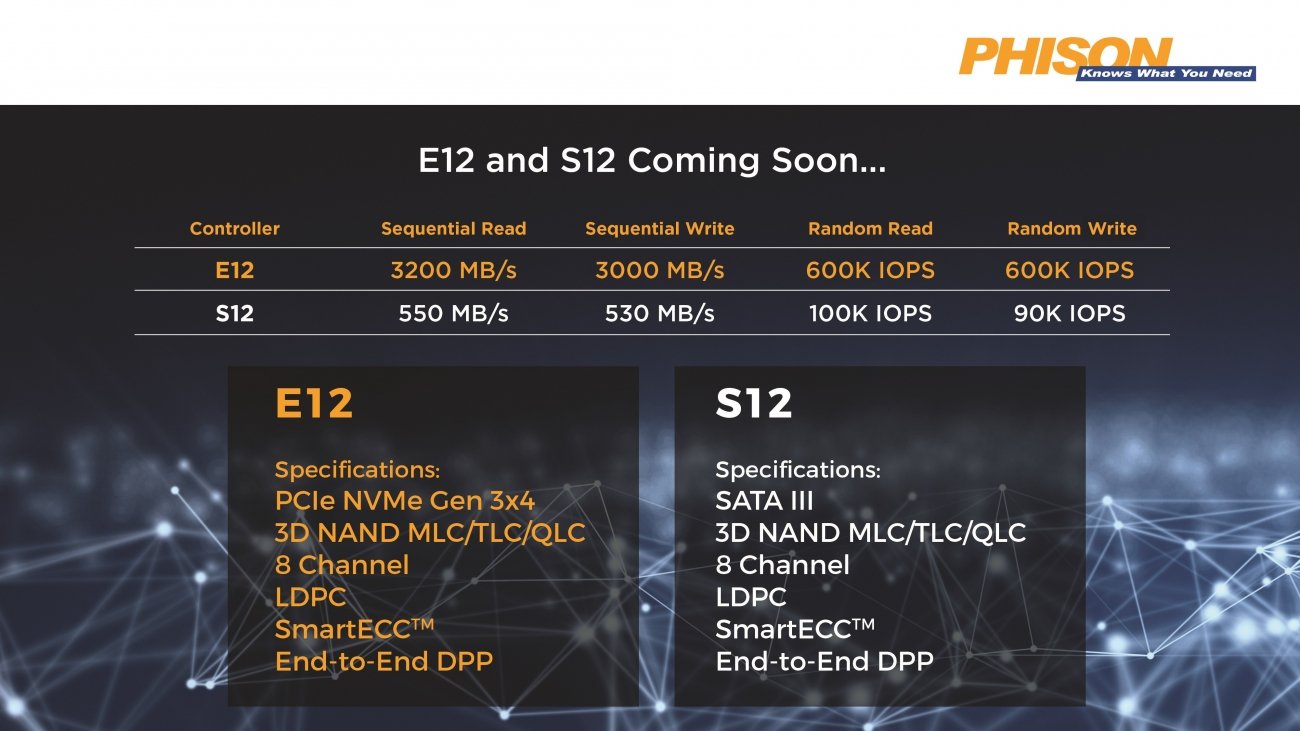 The E12 is eight channels of Gen3 x4 goodness supporting 3D flash. At up to 600K IOPS random read and random write, the E12 sports the best performance specifications of any consumer-based SSD we've seen to date. The E12 will support 3D MLC/TLC/QLC NAND flash and LDPC (Low-Density Parity Check) error correction technology. With LDPC, even low endurance QLC (4bit per cell) flash should have plenty of endurance for average users. The powerful E12 controller will support capacities of up to 8TB, and we should see E12-powered SSDs hitting retail channels in Q1 of 2018.
Phison isn't just doing PCIe storage; they are also updating their SATA line-up with their new S12 controller. Like the E12, the 8-channel S12 is designed to support 3D flash. The S12 will support 3D MLC/TLC/QLC NAND flash and LDPC (Low-Density Parity Check) error correction technology. The S12 will support capacities of up to 8TB.
Rounding out Phison's new lineup is a compact portable Thunderbolt SSD powered by Phison's venerable E7 controller.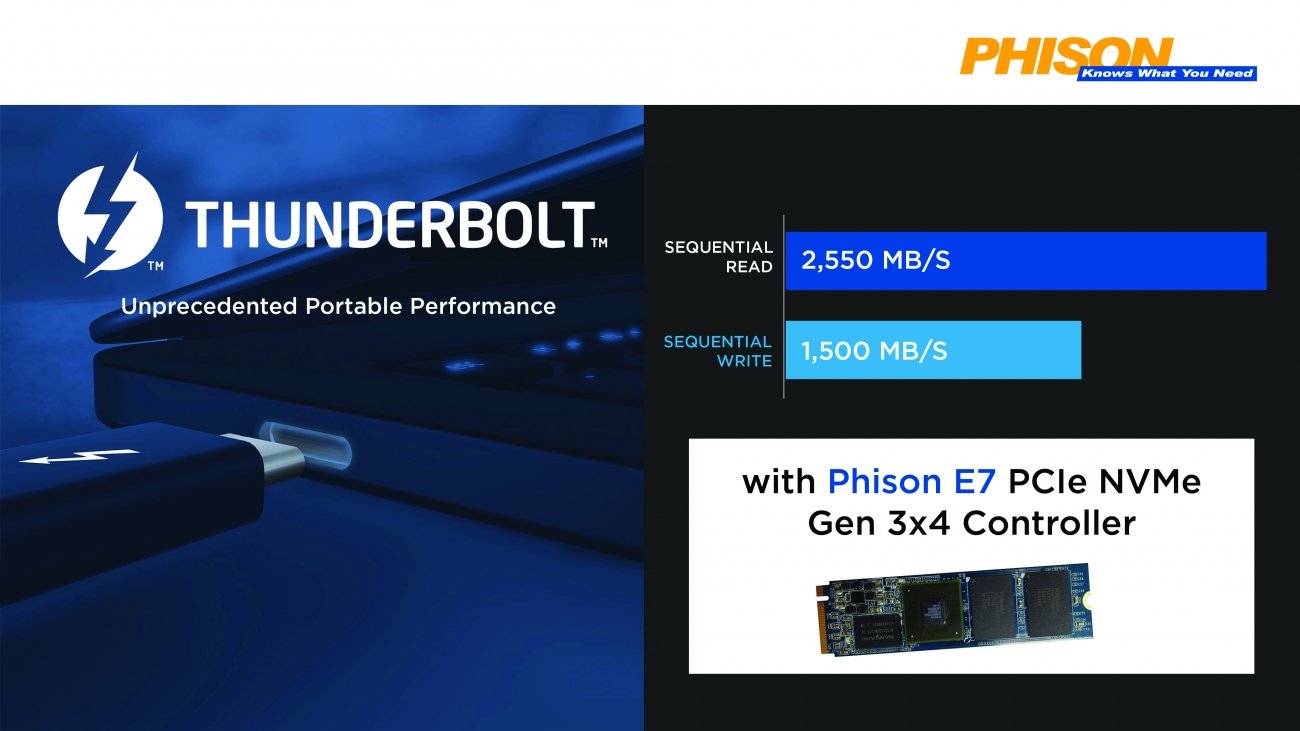 This portable Thunderbolt SSD is one of the fastest portable storage devices we've ever seen. This tiny package is capable of up to 2,550 MB/s sequential read and 1,500 MB/s sequential write.
Phison certainly has some exciting solid state storage products coming in the very near future. Stay tuned to TweakTown because we will have full reviews coming soon for each of these exciting new Phison products. Phison says they "Know What You Need" and it certainly looks like they do.
Related Tags