Bethesda has a new mystery game coming out this year
It's probably Fallout 4 for Nintendo Switch.

Published Fri, Sep 8 2017 12:30 PM CDT
|
Updated Tue, Nov 3 2020 11:54 AM CST
A Bethesda executive says the publisher has a new unannounced game coming out this year, and we're pretty sure it's Fallout 4 on Nintendo Switch.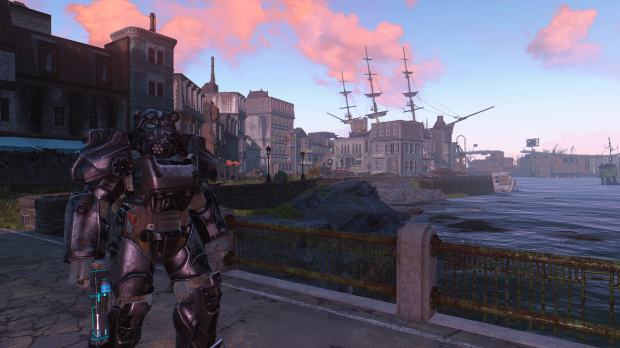 In a recent video interview with Tek Syndicate at PAX West 2017, Bethesda Softworks VP of Public Relations Pete Hines said that the company has a mysterious new game coming out this year that they haven't told anyone about. "We have nine games hands-on here, and all of which are coming out this year or are already out. Three VR titles including Skyrim for PSVR, we have Skyrim Switch, we've got Wolfenstein 2 and The Evil Within 2...we have a ton of stuff going on. And we even have a game coming out this year that we haven't even told anyone about yet," Mr. Hines said. "They can wait. It won't be so long."
Before you get too excited, we have strong reason to believe this is just Fallout 4 on Nintendo Switch. Bethesda typically reveals any new games the same year they release, and if it were a major new game, it would've been revealed at Bethesda's huge E3 2017 event. There's been Fallout 4 GOTY Switch listings at select retailers, but even if these listings didn't exist, Bethesda has already told us enough information with the Creation Club. The Creation Club is Bethesda's new storefront that monetizes optional bite-sized DLC content, and is specifically geared to make most of its money from platforms that don't support free mods very well: Sony's PlayStation 4 is one of these, but the biggest is Nintendo's Switch platform.
With its lower-end hardware, the Switch isn't geared to support user-created mods of any kind, but it's also wort mentioning that Bethesda hasn't confirmed or disconfirmed mod support for Skyrim on the platform. Basically the Creation Club was made to monetize from systems that don't support mods well.
But there's also one other clue that actually ties into the first one: Skyrim is releasing on the Nintendo Switch sometime this year. If Skyrim is launching on the Switch, Fallout 4 should launch there as well simply so Bethesda could A) make more money with both re-releases and B) offer the full monetization potential with both games on the Switch.
Whatever the new mystery game is--almost surely Fallout 4 on Switch--it'll release sometime this year.
And no, it's not going to be The Elder Scrolls VI--Todd Howard has already confirmed that TESVI is a looooong ways away.
Related Tags