Bethesda responds to Creation Club auto-download issues
Bethesda community manager affirms devs are looking for solutions to bypass Creation Club auto-downloads, and a modder says 'amazing stuff' is coming.

Published Sun, Sep 3 2017 2:32 PM CDT
|
Updated Tue, Nov 3 2020 11:54 AM CST
Bethesda's new Creation Club storefront has been widely criticized and protested by gamers everywhere, and Bethesda says it's listening to all feedback--especially the game auto-downloading Creation Club content before users even buy it.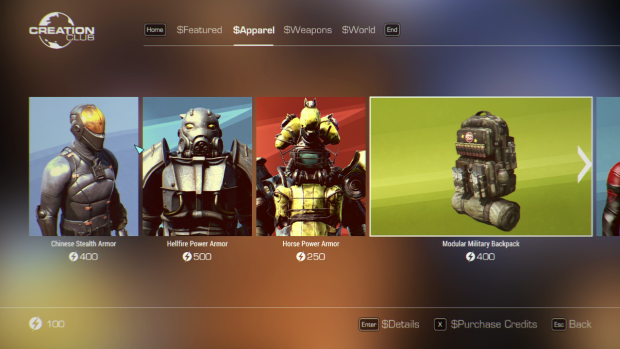 Besides the rather disappointing content offering and the pricing model of Creation Club's premium currency, one of the most hotly contested mechanics of the storefront is how it automatically downloads Creation Club content onto a user's hard-drive via game updates. Creation Club content is added to a user's hard drive regardless if they purchase the content or not, and upon purchase the content is simply unlocked for use. Gamers are worried that the Creation Club will eventually eat up tons of storage space--specially on consoles where HDD space is at a premium.
While Bethesda Game Studios as a whole has yet to deliver an official statement on Creation Club's many controversial features, a Bethesda.net Community Content Manager "Cartogriffi" says that the company is currently working on a solution to avoid auto-downloads. This strongly indicates that the feature was intentional and is working as intended.
"Hi everyone, we're working on solutions that would not require Creation Club archives be part of the game's patch. We are certainly listening to everything people are saying, and appreciate the constructive feedback, both positive and negative.This note has also been added to the pinned FAQ," the community manager said in a recent post.
But why would Bethesda do this and potentially congest gamers' hard drives? The answer is quite simple: the developer wanted to avoid the limited mod space allocation on Xbox One and PlayStation 4.
"I believe they were doing it as a means of bypassing the Sony and Xbox limitations on how much additional content can be added. If it's bundled with the game, it doesn't count against the tight limitations," a Reddit user wrote in the sub-Reddit post that serves as the source of this article.
I myself still believe in the Creation Club, and I think that it represents a wealth of potential for Bethesda, mod-makers, and gamers, but of course the developers have to work out the kinks. While the launch content is expensive and doesn't represent value-oriented DLC, I'm sure that more impressive creations will be added over time.
But as the content expands, and becomes bigger and bigger, so does the toll in our collective hard drives. Bethesda should offer some way for users to simply opt out of the Creation Club to avoid this steady congestion of content. This is worse for console users as Xbox One and PlayStation 4 have to be connected online to access new mods, and the game forcibly updates itself upon launch, and users have to manually stop the update.
Related Tags