Bethesda isn't making Game of Thrones RPG
We knew something was amiss.

Published Tue, Aug 29 2017 12:24 PM CDT
|
Updated Tue, Nov 3 2020 11:54 AM CST
Retailer Target has officially confirmed the "Bethesda: Game of Thrones" listing was an error, and that the game isn't real.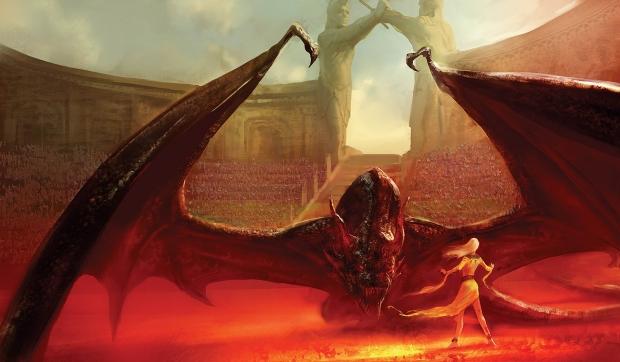 A bit ago we reported on a suspect listing on Target's website that had "Bethesda", the developer of landmark RPGs like Skyrim and Fallout 4, alongside Game of Thrones, the mega-popular fantasy series that just concluded its seventh season. Of course everyone thought this meant Bethesda Game Studios was adapting Game of Thrones into an epic sprawling open-world RPG...but alas gamers, and countless games media outlets, were wrong.
"This is not a real product - we're sorry for any confusion," an official Target spokesperson told Forbes in a statement. The erroneous listing has been scrubbed from the retailer's website.
We knew something was amiss simply because Bethesda Softworks doesn't announce games until they're scheduled for release within that year's timeline. The publisher currently has its full 2017 slate of games, which includes Wolfenstein II: The New Colossus and The Evil Within 2, all lined up and ready to go. Furthermore, according to Todd Howard, Bethesda Game Studios is currently working on a few "big and crazy projects" that are "totally different than anything we've ever done before."
A Game of Thrones RPG is a dead ringer for a Skyrim mashup; in other words we've been here before, folks.
Mr. Howard first teased this projects at DICE 2016, and strongly hinted the technology needed for the games themselves doesn't fully exist yet--especially not for The Elder Scrolls VI, which is two "big and crazy" games behind schedule.
Based on this, it's very very unlikely that Bethesda Game Studios would have one of their huge projects ready in just a year after Mr. Howard teased them, especially given the technology constraints.
Right now BGS simply plans to rake in recurring revenues with Fallout Shelter, Elder Scrolls Legends, and the newly released Creation Club marketplace of a-la-carte Fallout 4 and Skyrim add-ons, all while re-investing the revenue to fund its ambitious gaming expeditions.
Related Tags