Final Fantasy XV will support 8K resolution on PC
Thanks to NVIDIA's high-end graphics technology and video cards, Final Fantasy XV will be a explosive powerhouse on PC that supports 8K resolution.

Published Tue, Aug 22 2017 3:36 PM CDT
|
Updated Tue, Nov 3 2020 11:54 AM CST
UPDATE: Square Enix has provided us with an official statement that specialization requirements for Final Fantasy XV's incoming Windows Edition on PC were published in error. "The recommended specs text that accompanied the Windows Edition trailer were posted in error and have since been removed," a Square Enix representative told us. "The specs listed were not final as the game is still in development. We will officially publish both minimum and recommended specs for the game once we finish development, so that they are fully accurate."
Final Fantasy XV is coming to PC in 2018, and Square Enix isn't holding anything back: the developer has ensured the game will hit insane high-end performance with 8K resolution support and optimizations on NVIDIA's GeForce GTX 10 series video cards.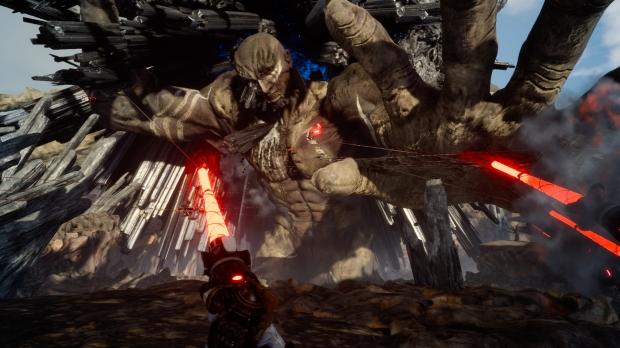 When I played Final Fantasy XV on my PS4 in 2016, I knew right away that the game had been watered down to run on outdated console hardware. Sure the game looked fine, and played fine, but it revved my PS4 to its limit, and I longed to jump in the dynamic open world of Eos without limitations. With the Final Fantasy XV Windows Edition, enthusiast PC gamers will be able to experience the unfettered explosive power of Square Enix's behemoth Luminous Engine. The PC version, which has been built specifically to leverage today's most demanding hardware and graphics technologies, will support native 4K and even 8K resolution--provided you have the graphics horsepower to hit that perf.
Make no mistake: FFXV on PC is fine-tuned and tailor-made for enthusiast rigs. The game has mind-boggling recommend specs of a NVIDIA GeForce GTX 1080 Ti graphics card as well as 16GB of RAM, and clocks in at a huge 170GB install size. "FFXV Windows Edition will support high-resolution options and is compatible with native 4K (3840 x 2160) resolution and HDR 10. Graphical options can also be configured to support up to 8K. Thanks to NVIDIA, you can experience the beautiful and carefully-crafted world of Eos like never before," Square Enix wrote on the game's Steam page.
Final Fantasy XV Windows Edition Recommend PC Specs:
Monitor: 4K with HDR support

Video Card: GTX 1080 Ti

Processor: Ryzen 7 1700 or Intel Core i7 3.4GHz

RAM: 16 GB

Headphones Surround 5.1 or 7.1

Disk Space: 170 GB
Square Enix has partnered with NVIDIA to power Final Fantasy XV's PC version, and the game will leverage Team Green's key Gameworks technologies for real-time graphics and physics simulation, including Hairworks, ShadowWorks, Turf Effects, and VXAO.
"With the help of NVIDIA, we are creating a stunning visual experience in FINAL FANTASY XV WINDOWS EDITION, one worthy of this beloved franchise," said Hajime Tabata, Director of FINAL FANTASY XV. "NVIDIA pushes the pace of innovation in our industry, and that benefits gamers and developers alike."
We can't wait to see the world of Eos in a whole new dimension of graphical clarity and performance. Final Fantasy XV's PC version is slated to release Early 2018, and will likely launch before Square Enix's fiscal year timeline ends on March 31, 2018.
Related Tags