Lawbreakers player count drops shortly after launch
The playerbase of Boss Key's new gravity-defying shooter Lawbreakers is crashing to the ground on Steam.

Published Thu, Aug 10 2017 3:44 PM CDT
|
Updated Tue, Nov 3 2020 11:54 AM CST
Boss Key's new class-based shooter Lawbreakers launched to a diminished playerbase on Steam, and has failed to gain momentum in the crucial days after launch.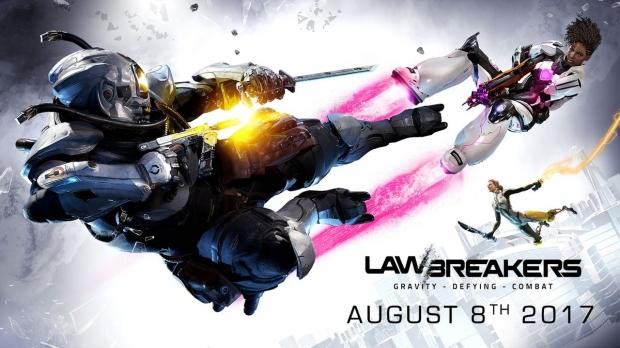 Any developer will tell you that the first few days of a game's launch are absolutely critical defining moments. Not only are developers constantly scouting data--playerbases, engaged users, DAUs, MAUs, you name it--but sites like Githyp are aggregating key insights to gauge a game's success. Sadly, it appears that Lawbreakers may end up crashing to the ground, much as the site predicted.
Since its launch on August 8, Lawbreakers has yet to break Steam's top 100 most-played games list. The game's playerbase at launch saw just 3,019 peak players, down 34% from the second open beta test and a massive 60% from the first open beta test conducted on June 30. A day after Lawbreaker's release on Steam the game had 2,739 peak players, and continues losing players every day since.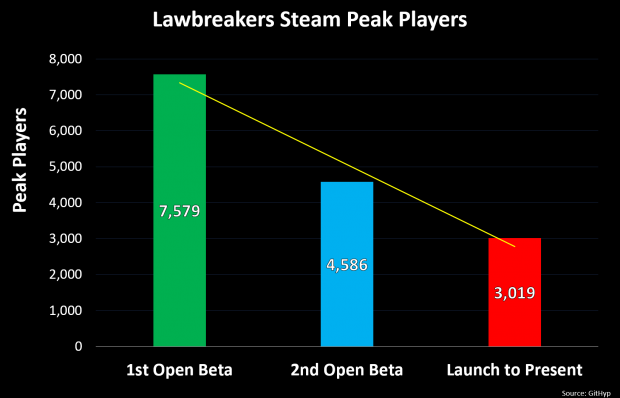 Lawbreakers Peak Players

7,579 peak players during first open beta

4,586 peak players during second open beta (Down 38.68% from first open beta)

3,019 peak players from launch to present (Down 34.16% from second open beta, 60.16% from first beta)
The real crux of the game's ill-fated success seems to be its $30 paywall, which is roughly half of a AAA game. Lawbreakers was originally slated to be a free-to-play game with microtransactions, and it ended up being a buy-to-play shooter with microtransactions, not unlike Blizzard's massive hit Overwatch. Besides the paywall issue, gamers are citing that Lawbreakers, while unique and inventive, is simply too chaotic and busy for average players. Thus it's less accessible than other FPS games on the market.
Furthermore, many players say there was very little marketing or advertising done to promote the game, especially not the kind of marketing push developers and publishers typically make with long-term FPS titles. Ultimately it seems like Lawbreakers aimed to cash in on the recent surge in monetized and highly-engaged shooters, but failed to attract the mass media attention needed to make the game tick.
However it's worth noting that these numbers are estimates, and that we don't know how well Lawbreakers fared on PlayStation 4. Games like Lawbreakers typically do better on consoles, but it's also important to engage the PC gaming audience at the same time.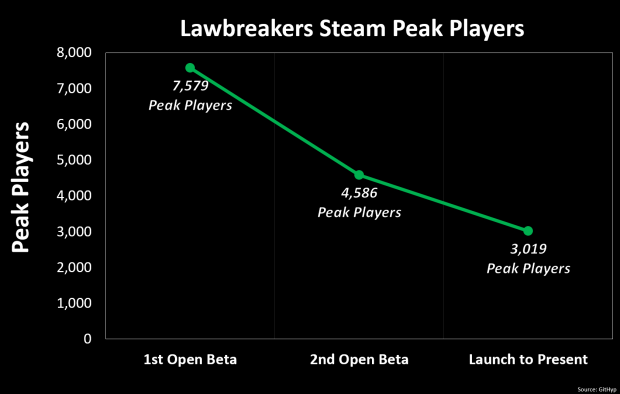 It's highly likely that Lawbreakers will follow what 2K Games did with Battleborn and go free-to-play in the coming months after launch, and it will be interesting to see what happens next.
Related Tags