Rippin' threads with AMD Threadripper live on Facebook
We unboxed AMD's new Ryzen Threadripper 1950X and 1920X processors live on Facebook earlier today!
Published Thu, Aug 3 2017 1:57 PM CDT
|
Updated Tue, Nov 3 2020 11:54 AM CST
Today at 9AM EST, AMD officially lifted an embargo on unboxings of their new Ryzen Threadripper CPU. We had one kit on hand and did a Facebook Live video (embedded below) detailing everything from unboxing the CPU to an overview of ASUS's new X399 Zenith motherboard.
We unboxed both the Threadripper 1950X and 1920X. The 1950X features 16 CPU cores and 32 threads, while the 1920X features 12 cores and 24 threads. The 1950X is AMD's top dog when it comes to ripping up threads, and it's a behemoth of a CPU. AMD included a novelty dud CPU in the box so that we could get hands-on with the actual processor.
From its super thick PCB to heavy weight, the CPU looks and feels high performance. We can't disclose performance numbers at this time, but you can probably imagine what double the cores and threads of a Ryzen 7 1800X could deliver in a single package.
AMD's X399 chipset also packs a heavy punch, and ASUS's X399 Zenith is equipped to take full advantage of the new processors. We do a live unboxing of the motherboard, went over all included accessories, and even do a quick overview of the motherboard. The VRM heat sink has a remote heat sink attached to it, which is cooled by a small fan near the integrated IO panel. Some of the craziest accessories include a 10Gbit networking card, a GPU support bracket, and even a fan extension card.
Installing the new Threadripper CPU is also unlike anything from recent years. Instead of physically handling the PCB with your hands, the new socket system relies on a card like system, where you insert the CPU into the metal bracket above the motherboard's LGA socket.
We hope you enjoy the video and stay tuned for much more Threadripper and X399 content in the near future!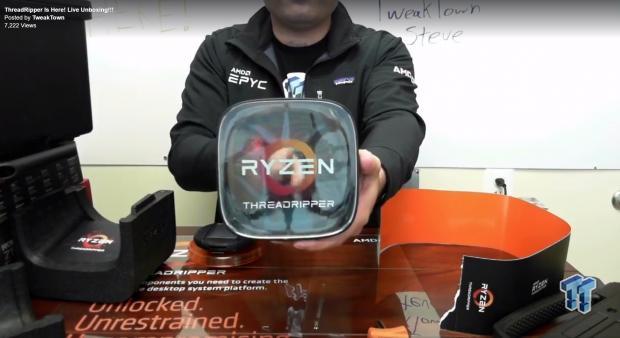 Related Tags