PS4 shipments reach 63.3 million worldwide
Sony's PS4 reaches 63.3 million units sold-in to retailers around the globe.
Published Aug 1, 2017 9:15 AM CDT
|
Updated Tue, Nov 3 2020 11:54 AM CST
2 minutes & 13 seconds read time
Japanese games titan Sony Corp today revealed its first quarter financials for the fiscal year ending March 2018, showing strong growth due to increased semiconductor, image sensors, and financial institution segments, along with a highlight at total lifetime-to-date PlayStation 4 shipments.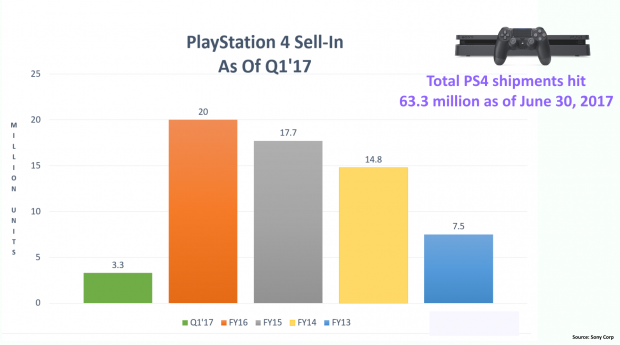 In its Q1 earnings for Fiscal Year 2017 the Tokyo-based technology giant has revealed new metrics on the PlayStation 4's sell-in figures. According to the data, Sony shipped 3.0 million PS4s in the three-month period ended June 30, 2017, down 14.28% year-over-year from the 3.5 million units shipped in Q1'16. In total, Sony has sold-in 63.3 million units to retailers as of June 30.
Remember this is sell-in, as in shipments to retailers who purchased the consoles in bulk for a discounted rate, not total sales. As of June 13, Sony has sold 60.4 million PlayStation 4 units globally.
Sony Corp Q1 FY17 financials at-a-glance:

Sales and operating revenue - 1.858 trillion yen ($16.8 billion), up 15.2% year-over-year.
Operating income - 157.6 billion yen ($1.42 billion), up 180.5% year-over-year
Total profits - 80.9 billion yen ($732.22 million), up 282.1% year-over-year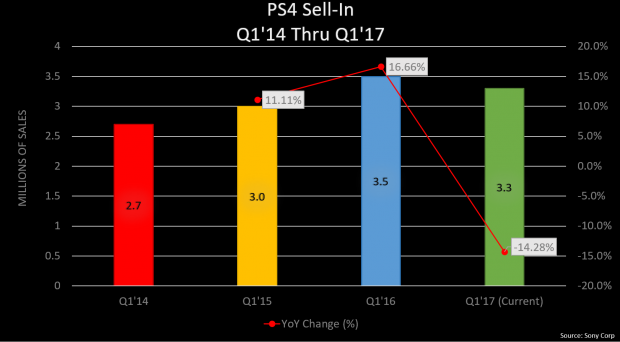 Sony's Games and Network Services segment, which includes PlayStation 4 software and hardware sales along with PS Plus subscriptions and other services, had tame growth throughout the first quarter. G&NS segment pulled in 348.1 billion yen ($3.15 billion), up 5.2% year-over-year. Sony's game segment sales accounted for 18.75% of Sony's total sales revenues for the quarter.
The games division saw a marked drop in operating income, however: G&NS operating income dropped by a massive 59.77% to 17.7 billion yen ($160.202 million), which Sony attributes to the PS4's price reduction which took place in September, along with an absence of lucrative key first-party games for Q1'17 that was released in the previous quarter.
"This significant decrease was primarily due to the absence of the significant contribution of a highly profitable first-party software title released in the same quarter of the previous fiscal year, as well as the above-mentioned impact of a price reduction for PS4 hardware," Sony wrote in its official earnings press release.
The company expects to ship 18 million PlayStation 4 units in the fiscal year ending on March 2018, bringing the total PS4 install base to 78 million by the end of the fiscal year timeline.
Sony has adjusted its earnings guidance for the segment, and now expects to make $17.92 billion from Games and Network Services.
Games & Network Services FY17 Guidance (As of August 2017):
Net Sales - 1.98 trillion yen ($17.92 billion) in net sales, up 4.76% from April's 1.89 trillion yen ($17.10 billion) forecast.
Operating Income - 170 billion yen in operating income ($1.53 billion), up 5.88% from April's 180 billion yen ($1.62 billion) forecast.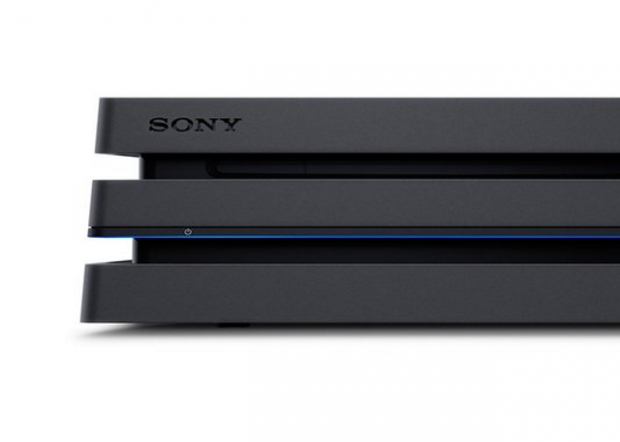 Related Tags