Nintendo's awkward and truly backwards-implemented online voice chatting app is a mess, and a huge portion of Nintendo Switch owners simply aren't using it.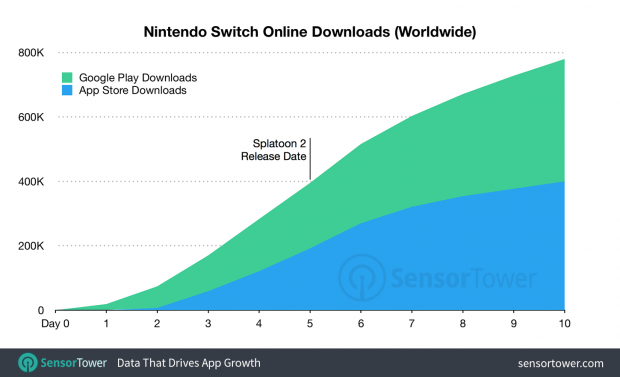 The Nintendo Switch Online smartphone app, which requires Switch owners to use their phone while playing Switch games in order to chat with friends in online multiplayer games like Splatoon 2, has been released as part of a "free, limited test" to arm Nintendo with much-needed feedback on its incoming online service. However, gamers simply aren't using the app: analyst firm Sensor Tower reports that just 17% of the Nintendo Switch's full 4.7 million global install base, or 780,000 users, have downloaded the app on both Google Play and Apple's iOS Store.
The vast majority of Switch Online app downloads were in the United States, and Sensor Tower's data shows just how little Japanese gamers care about voice chatting. This strongly reinforces the believe Nintendo is marketing the Switch for the Japanese market first, as Japanese gamers typically do not use voice-based interactions while playing online games. While it's worth noting the Switch Online app only works with Splatoon 2 right now, the game is massively popular in Japan: in 3 days it sold 670,995 units, meaning one out of every two Switch owners in Japan bought the game.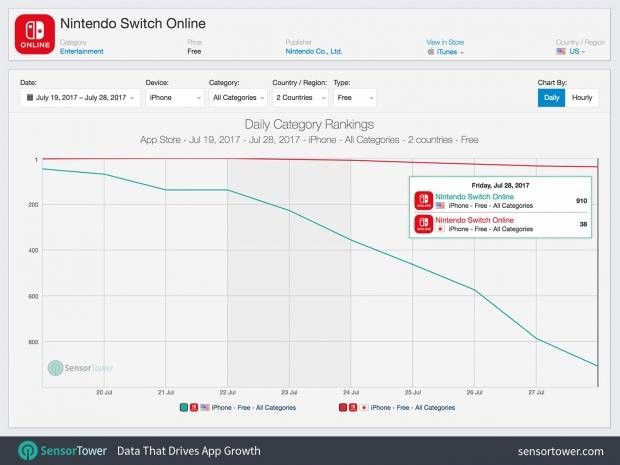 With less than 20% of the global Switch userbase downloading the Switch Online app, Nintendo will only be supplied with a fraction of the feedback data it needs to build a stronger online service.
The smartphone app has been massively criticized ever since it was announced in early 2017, and has been further panned for its truly awkward and downright backward features, making many believe that Nintendo isn't taking its online framework seriously.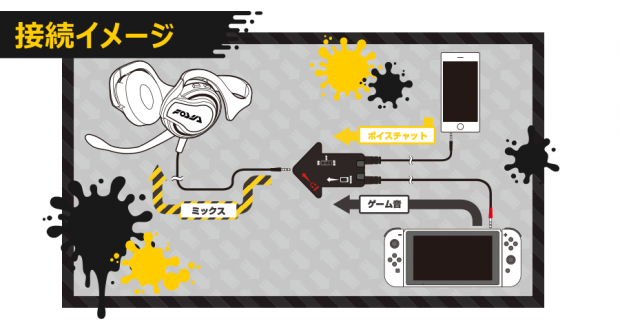 Switch owners face this tangled mass of frustration if they want to chat with friends in Splatoon 2 while hearing in-game audio on a headset.
Read Also: Nintendo Switch Online app stumbles out of the gate
Without key features such as easy online chatting and interactions, key U.S.-based third-party publishers will be hesitant to bring their biggest online-engaged titles to the Switch. That goes double for a social-powered online service--essentially Nintendo needs to scrap the smartphone app altogether and figure something else out, and make its own PlayStation Network / Xbox LIVE social infrastructure for gamers.
Here are some of the main problems of the Nintendo Switch Online app courtesy of Forbes' Paul Tassi:
The functionality is pretty barebones at this point. Splatoon 2 only lets you take part in private battles with friends right now, making the entire process barely worth it at all. You can only talk to players when you're in the waiting room of a game or the game itself, and nowhere else, despite the service running through your phone.

Unlike almost any other chat app, if you swipe out of the app and back to your home screen or open a different app, you will lose the ability to voice chat.

Not only does your Nintendo app have to stay open for voice chat to work, but your screen has to stay on, making this a substantial battery drain on your phone.

In handheld mode with headphones this will require a bunch of cables and probably the kind of convoluted splitter we've seen from third party manufacturers already. I still don't know if you will be able to get game audio and voice audio at the same time even while using one of these.
The final Switch Online app will be released as part of Nintendo's cheap $20 a year Switch Online service which is planned to launch in 2018.
While Nintendo needs as much feedback as it can get, the Japanese console-maker has been quite bullish in the past regarding specific policies, and I do not think it will change its mind regarding the phone app.
After all, Japanese gamers don't and won't use it.