Microsoft today reported strong Q4 and full year fiscal earnings across all of its segments, and its gaming branch pulled in over $9 billion in revenues despite lower Xbox console sales.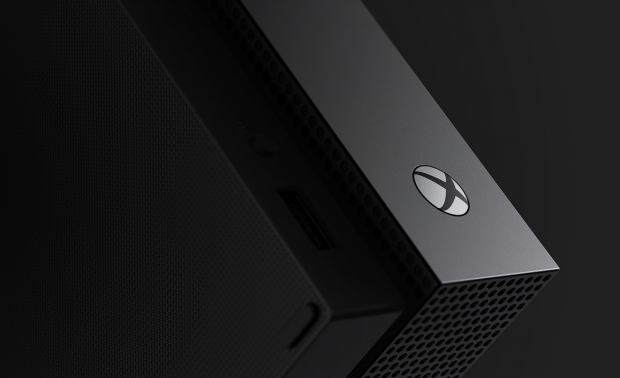 Despite Sony's dominant lead in console sales, Microsoft's gaming segment is extremely healthy and prosperous as the company's digital cross-platform transformation continues paying off. The Redmond-based titan has unified Windows 10 PCs, mobile phones, and Xbox consoles with its unique Xbox-as-a-service initiative, which sees Xbox LIVE connecting a manner of popular devices together.
In its fiscal year 2017 financials, Microsoft reports that there are now 53 million Xbox LIVE users and counting, and that its gaming segment raked in $9.076 billion in total revenues during the 12-month period ending June 30, 2017.
I've dug around in the financials and have formulated a quick analysis to give you a better idea of Microsoft's gaming growth, but first let's take a look at the raw numbers. Gaming, which is part of Microsoft's More PC Computing segment, earned a total of $9.076 billion in the fiscal year.
Q4'17 game segment earnings sit at $1.657 billion, down 14% quarter-over-quarter, which is attributed to lower console sales offset by strong services and digital game purchases.
Xbox One console sales decreased by 29% in the fourth quarter, but strong growth in Xbox LIVE software and services helped offset the drop in hardware sales.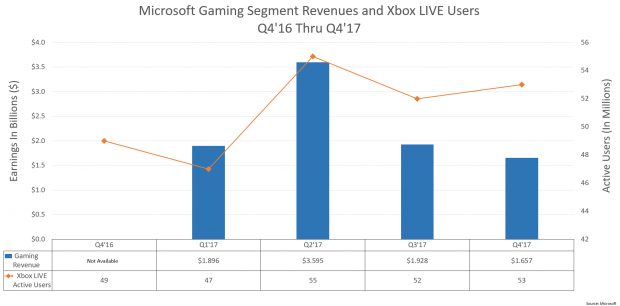 Read Also: Microsoft's plan to take over gaming might actually work
Gaming is a significant force behind the More Personal Computing segment, but unlike Sony, gaming doesn't represent a strong earner for Microsoft's total revenues. Total gaming revenue ($9.076 billion) made up 18.78% of total quarterly More Personal Computing segment revenues ($38.77 billion), and 23.4% of total MPC revenues for the full fiscal year.
But gaming only accounted for 7.1% of Microsoft's total Q4'17 revenues ($23.317 billion), and 10.09% of Microsoft's total FY17 revenues ($89.950 billion).
Conversely, Japanese games giant Sony depends strongly on its games division, primarily PlayStation 4 hardware and software sales, which is nestled in its Games and Network Services segment. Total fiscal year revenues of Sony's Games and Network Services ($14.730 billion) accounts for 21.69% of Sony's total FY16 revenues ($67.886 billion).
Active Xbox LIVE users for Q4'17 sit at 53 million users, up 8.16% year-over-year and 1.92% quarter-over-quarter. Microsoft's full FY17 period had an average of 51 million active Xbox LIVE users.
Xbox LIVE growth and monetization is the key to Microsoft's strong games revenues, and allows it to continue raking in billions even when Xbox One console sales falter. As we reported months ago, Xbox LIVE is the core of Xbox, not consoles.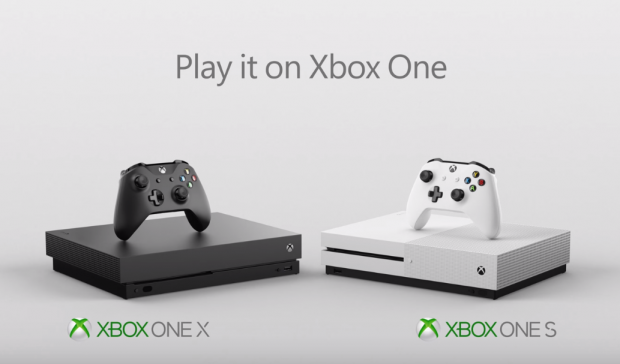 Read Also: Why Xbox LIVE is the center of Xbox, not consoles
The biggest spike in gaming revenues happened in Q2'17, which coincides with the holiday season (October - December), a historically strong period for hardware and software sales. During Q2'17 Microsoft's gaming division pulled in $3.595 billion in revenues with 55 million active Xbox LIVE users, its highest for the entire year.
Microsoft will likely repeat these strong earnings during its Q2'18 timeline, bolstered by the launch of its new high-end $499 Xbox One X console, along with sales drops on its popular Xbox One S system. Software and monetization revenues should also spike as more gamers enter the ecosystem to purchase games and content.
Microsoft company CEO Satya Nadella highlights that the games division will continue being profitable due to the company's strong core framework with Xbox LIVE, and its massively lucrative opportunities with game streaming app Mixer.
"Now on to gaming. Our gaming business is now more than $9 billion, and growing profitably," said Microsoft CEO Satya Nadella.
"The gaming world is evolving faster than ever before - from game play across multiple devices, to the explosive growth in streaming and eSports, to new subscription services and mixed reality scenarios. We are uniquely positioned to capture a larger share of this opportunity because of our ability to unite the global community of gamers through Xbox Live - now 53 million strong and growing - and to enable new experiences across PC, console and mobile.
"Our approach is to let gamers play the games they want, with the people they want, on the devices they want."