Nintendo today published its 2017 Annual Report in English, highlighting various financial data and giving consumers, investors, and gamers a better look at the company's current market situation.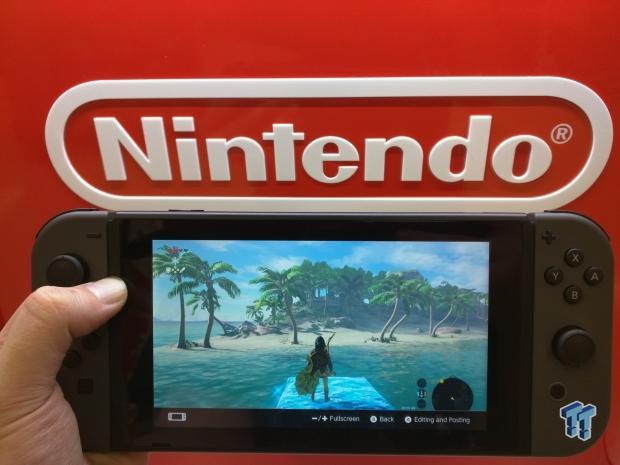 Nintendo's latest annual report is filled to the bring with interesting data. The brief chronicles Nintendo's performance across four different fiscal years in key metrics like net sales, operating income, total profits, profit per share, net assets, and more. FY17 was a successful year for the Kyoto-based console-maker, and the new Nintendo Switch handheld-console hybrid helped rally shares, net sales, and total profits to new heights. The Nintendo 3DS also did well throughout the year--to date the handheld has more than 66 million units sold.
I've prepared a series of graphs that illustrate Nintendo's year-over-year performance compared to three past fiscal years, and you can check them out below.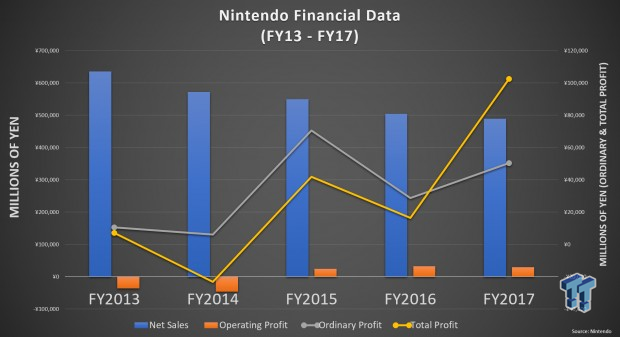 Total Profits Surge in FY17
As we previously reported, Nintendo recorded a massive 521% increase in total profit games in FY2017 with 102.5 billion yen ($922.5 million) in profit attributed to parent (total profit gains), up over 500% from last year's 16.5 billion yen.
Both net sales and operating profit dropped 3.04% and 10.70% YoY respectively, however ordinary profit surged by 74% since FY16.
Nintendo FY17: Key Metrics At a Glance
Net Sales - ¥489 billion ($4.35 billion), -3.04% YoY
Operating Profits - ¥29.362 billion ($261.35 million) , -10.70% YoY
Ordinary Profits - ¥50,364,000,000 ($448.3 million), +74.93% YoY
Total Profits - ¥102.574 billion ($913 million), +521% YoY
Total Assets - ¥1.46 trillion ($13.04 billion), +13.26% YoY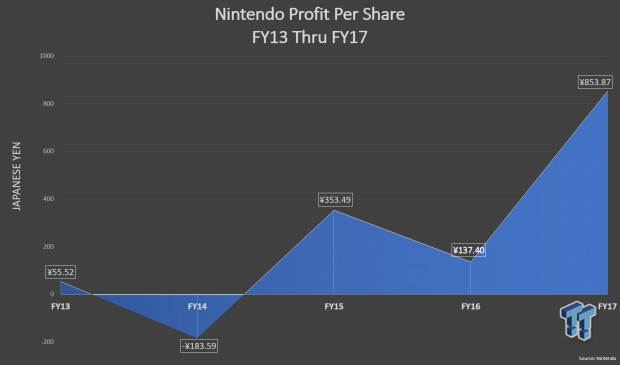 Profit Per Share
Nintendo's shares surged to their highest point in 8 years following the company's strong E3 2017 reveal, rallying to 38,440 JPY. Shortly after the Switch released on March 3, Nintendo shares started to climb, peaking at 27,405 JPY per share just before the fiscal year cut off.
Total profit per share spiked by a tremendous 853.87 JPY per share in Nintendo's FY17, largely due to the release and reception of Pokemon GO in July 2016 as well as the huge reception of the Nintendo Switch in March 2017. Remember, Nintendo's FY2017 was held from April 1, 2016 thru March 31, 2017.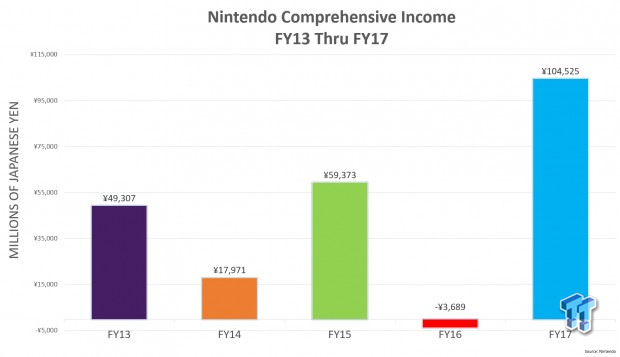 Comprehensive Income
Total comprehensive income for FY17 shot up to ¥104.52 billion from Nintendo's disastrous ¥3 billion comprehensive income loss filed in its FY16 due to flagging Wii U sales.
Nintendo has dramatically turned this around with a strong integrated hardware business replete with a wide variety of software, alongside savvy business investments and an ever-growing share price.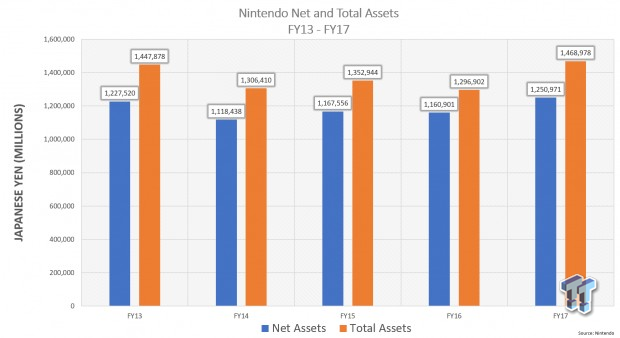 Assets
Throughout the Fiscal Year ended March 2017 Nintendo accrued more assets such as total cash, securities, trade receivables, etc. The biggest asset boost was cash and deposits, which accounted for ¥662,763 billion ($5.8 billion) of total assets, up 16% year-over-year.
A quick overview reveals net assets for FY17 are up 7.75% year-over-year, and total assets are up 13.26% year over year, from ¥1.29 trillion ($11.5 billion) in FY16 to ¥1.46 trillion ($13.04 billion).