Monster Hunter: World looks truly alive
Capcom breathes new life into Monster Hunter, creating the ultimate MonHun experience on consoles and PC.

Published Tue, Jul 11 2017 2:14 PM CDT
|
Updated Tue, Nov 3 2020 11:54 AM CST
Capcom's new massive Monster Hunter MMO looks like a living, breathing world replete with dynamic environments, enemies, and so much more.
Monster: Hunter World might be Capcom's most ambitious game in recent memory. The new entry brings the Monster Hunter series into an incredibly vibrant open world that may even rival Zelda: Breath of the Wild's Hyrule in its dynamic interactivity, and matches this robust backdrop with a drop-in/drop-out online co-op system that unites Japanese and Western players for the first time. In many ways the game resembles MMO-style worlds with a staggering level of depth, allowing players to really interact with and user their surroundings to take down fearsome monsters.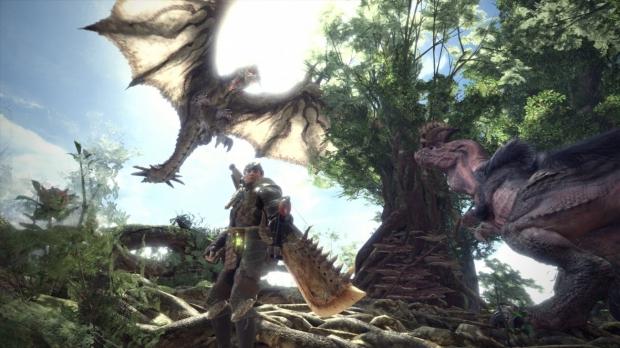 As a Monster Hunter fan, I'm beyond excited to see a mainline MonHun come back to consoles, especially one that has cross-play on consoles and PC. But the sheer depth of the world itself is massively impressive: creatures roam across the wilderness as you lead a giant fearsome dino into traps strewn throughout the jungle, using the very environment as a tactical weapon. The game gives us all the tools to make the flora and fauna into deadly assets for our hunts.
And, of course, the world's ecosystem is so alive that it features its own hierarchy of predators. As you fight one monster, another monster might jump in and fight your quarry and make the battle easier. Of course, it might also take your prey--or make you its prey.
Monster Hunter: World is slated to release simultaneously on PS4 and Xbox One in early 2018, with a PC release coming later on.
Check below for more info on Monster Hunter: World, or click here for a ton of details.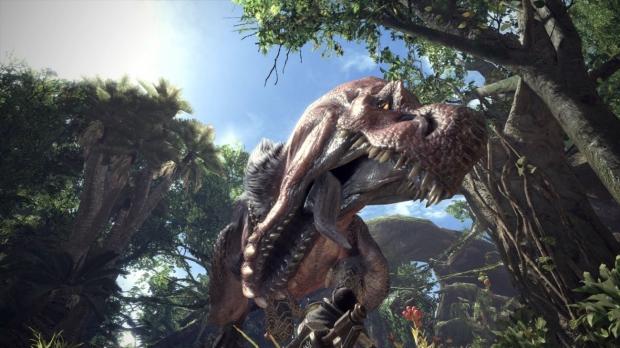 FEATURES

Welcome to the new World: Taking on the role of a hunter, players are tasked with going on a research expedition to a newly discovered continent known only as "new world" as they venture on quests to discover more about this mysterious land.

Living and breathing ecosystem: Utilize the surrounding environment and wildlife to your advantage. For example, pit monsters against one another to lure the main target creature to the right place, but be careful not to become hindered by the hazards they present.

Global simultaneous release: For the first time in the Monster Hunter series the latest title will release within the same launch window and unite hunters across the world with cross-region cooperative play options.

Online drop-in multiplayer: When the battle is too daunting to take on single-handedly, hail up to three other hunters to assist during quests by sending up a SOS flare to a worldwide server full of potential teammates.

Hunt to craft new gear: Defeat monsters and collect loot from fallen foes to craft equipment and weapons styled after the monsters that have been slain. Selecting the right loadout can help exploit enemy weaknesses to gain an advantage in battle.

Master the beasts: A variety of ferocious creatures inhabit the new world landscape including the series mainstay Rathalos and the all new Anjanath. Players can mount the monsters with the dynamic riding mechanic, allowing them to travel along the monster's body and deliver locational damage.

Seamless gameplay: Players and monsters can move from one map area to another freely and without loading screens whilst gameplay also dynamically transitions between night and day.
Related Tags