Xbox One sales to hit 63 million in 2021, says DFC
Microsoft's Xbox One console isn't expected to hit the 63 million sales milestone for another 4 years.

Published Tue, Jun 27 2017 6:17 PM CDT
|
Updated Tue, Nov 3 2020 11:55 AM CST
Based on current industry market trends, analyst firm DFC Intelligence predicts that Microsoft's Xbox One family of consoles will break 63 million units sold in four years.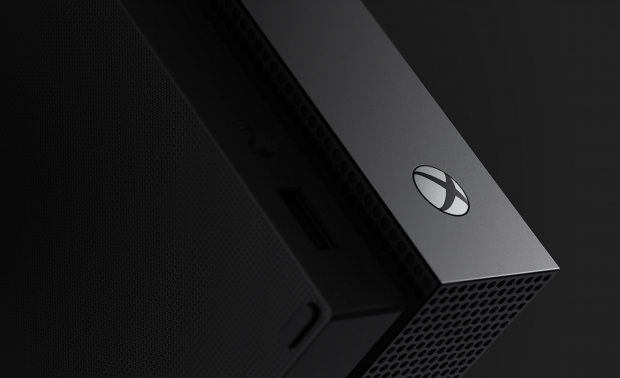 While Sony's PlayStation 4 family of systems has recently broken the 60 million sales milestone, Microsoft's own Xbox One iterative console trio isn't expected to deliver similar sales performance until 2021. In a new report, DFC Intelligence forecasts that the Xbox One console line--which includes the 2013 Xbox One, the 2016 Xbox One S, and 2017 Xbox One X--will reach cumulative sales of 63 million units by 2021. The $499 Xbox One X is expected to sell 17 million units, or 27% of total console sales, versus 46 million combined sales of the original Xbox One and revamped Xbox One S.
DFC Intelligence also predicts the video games industry will rake in $102 billion total earnings in 2017, up 8% year-over-year. Despite this strong growth, the firm notes the Xbox One has been underperforming.
"Xbox One X is an expensive system designed to appeal to a fairly narrow demographic of gamers who want high quality graphics but do not want to spend money on a high-end PC," said DFC analyst David Cole.
"The challenge is that is a fairly small addressable market, even as sales of 4K television sets start to soar. Both the Nintendo Switch or Sony PlayStation 4 offer a very strong value proposition that consumers seem to be flocking towards."
"Furthermore, the leap from 1080 to 4K resolution is simply not as revolutionary as the previous movement from standard definition to high definition.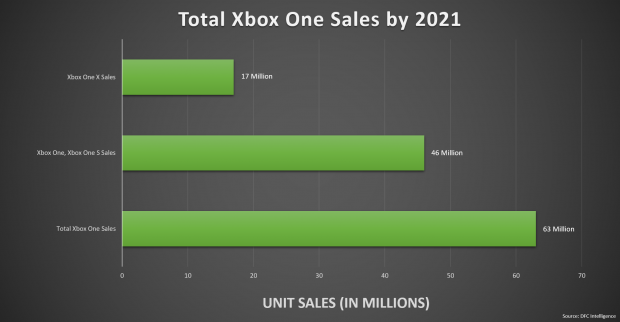 The 4K market has been growing as more and more consumers adopt new UHD displays and buy into the latest 4K-ready consoles, including the $249 Xbox One S and $399 PlayStation 4 Pro. Sony notes that the PS4 Pro has sold 25% of all PS4 consoles sold since the system's release in November 2016.
According to analyst firm FutureSource, the adoption rate of 4K television is steadily rising. 4K UHDTVs made up 25% of all televisions sold in 2016, FutureSource reports, and the adoption of 4K TVs is expected to rise 38% in 2017 to account for more than a third of all TVs sold.
FutureSource also projects that total Xbox One game sales are expected to rise by 17% to 70 million throughout 2017 with the bulk of game sales happening in Q4 to coincide with the Xbox One X's launch.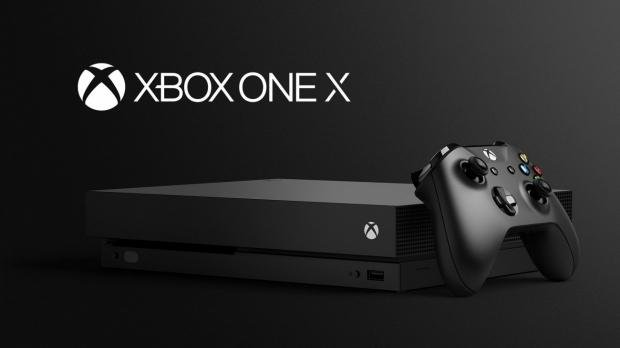 Xbox division head Phil Spencer has frequently explained that the $499 Xbox One X isn't for everyone, but is aimed at consumers who want high-end console experiences. Mr. Spencer has outright said that he expects to sell more Xbox One S models than the new $499 4K-ready box throughout 2017 and the quarters after.
"The Xbox One X is a console so it's for someone who wants to play video games in a console environment, and it's for someone who wants the best console out there and a premium console experience. It's not for everybody," Xbox executive Phil Spencer said in a recent interview with Giant Bomb.
"Next year we're going to sell a lot more Xbox One S consoles over the X, there's no doubt. But we knew that all along and we planned for it," he said.
Mr. Spencer also iterates that one of the main tenants of the Xbox One X's design is to help facilitate the push to 4K adoption.
"I wanted to make sure that as this console comes out, that it helps build an install base and more developers are targeting 4K as an output for their games," the Xbox division head said in the same interview.
Microsoft may be behind in the console race, but the company has built strong monetization momentum with Xbox LIVE to make up for slow console sales. The company has also integrated the Xbox brand with Windows 10 PCs in an attempt to future-proof its core gaming focus, ensuring Xbox is now a cross-platform gaming brand.
With this unification Microsoft has pushed past the era of console exclusives to embrace the future of digital monetization and engagement across two platforms (console and Windows 10 PCs), which is something Sony will have a hard time achieving.
With this in mind, Microsoft has found a way to significantly lessen the blow of losing in hardware sales, and has shrugged off the potential losses by becoming the fabled tortoise whereas Sony rushes forward towards the finish line as the hare.
Related Tags