AMD reveals EPYC 7000 server CPUs, up to 32 'Zen' cores
AMD reveals its EPYC 7000 Series server processors at an event in Austin, Texas, featuring up to 32C/64T Zen cores, 2TB RAM, 128 PCI-E lanes, and more.
Published Tue, Jun 20 2017 3:00 PM CDT
|
Updated Tue, Nov 3 2020 11:55 AM CST
AMD's EPYC lineup of processors is here and ready to compete with Intel's next generation of server-ready products.
The AMD EPYC 7000 series processors will offer up to 32 "Zen" cores, which were designed to fit into this space. Each processor will have eight DDR4 channels, support for a whopping 2TB of memory, 128 PCI-E lanes, a dedicated security subsystem, and there will be no chipset outside of the CPU. The motherboard socket will also be compatible with the next generation of EPYC processors, in the hope that more vendors will jump on board.
There are going to be nine dual-socket SKUs that go all the way from 8 cores and 16 threads to 32 cores and 64 threads at 3.2GHz. TDPs will range up to 180W (that includes chipset too), and all processors will feature eight memory channels and 128 PCI-E lanes, so there is no compromise. The way AMD can scale EPYC is through their Infinity Fabric, which helps them scale past Moore's Law.
AMD compared their new EPYC processors against the current generation of Intel Xeons. Now, while those numbers are huge, they are not comparing EPYC to Intel's latest generation of Xeon processors that use Skylake microarchitecture. AMD also has a more simple single-socket solution with lower power consumption and size for servers that are not fully utilized.
As we can see, there are three single-socket SKUs ranging from 16 cores and 32 threads to 32 cores and 64 threads, running up to 3GHz. They feature the same eight memory channels and 128 PCI-E lanes, and TDPs from 155W to 180W. Single socket performance is also very impressive, but once again, it is compared to Intel's previous/Broadwell and not their new Skylake Xeons.
One of AMD's strong selling points is its hardware-based memory and virtualization features built into the processor. You can have all your memory encrypted, and you can secure your virtualized machines. The security measures do eat up some performance, but when you are dealing with the datacenter, both security and performance are important, and having it built into the silicon is a nice feature to offer.
AMD also has a huge ecosystem of vendors in both the hardware and software market, including HPE, Dell EMC, MS, VM Ware, and Red Hat. We will have more of a deep dive article into how Zen is built for servers, security feature, Radeon Instinct, Infinity Fabric, and power management features of the new server processors soon, but for now, enjoy AMD's latest EPYC lineup - it's what Zen was designed for.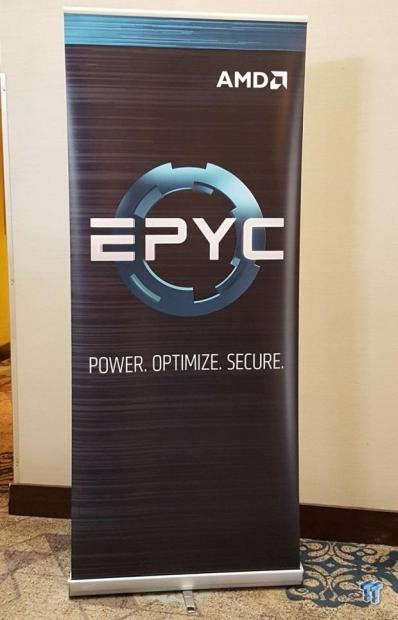 Related Tags