Square Enix joins Bulletstorm dev for new original game
On the heels of internalizing the development of its major franchises, Square Enix teams up with an external developer for a new game.

Published Fri, Jun 2 2017 2:27 PM CDT
|
Updated Tue, Nov 3 2020 11:55 AM CST
Square Enix announces a partnership with the third-party developer behind Bulletstorm and Gears of War: Judgement.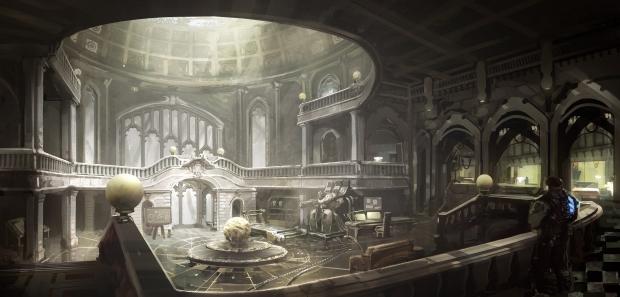 Note: Above image is concept art from Gears of War Judgement, and does not represent the new game.
Although Japanese publisher Square Enix has made strong efforts to internalize the development of key franchises and titles to its in-house studios, the publisher has re-affirmed its commitment with third-party alliances with a new partnership deal. Square Enix will team up with Polish developer People Can Fly to developer a "new high-end original title for console and PC."
As the developers at People Can Fly are known for their work on esteemed shooters like Bulletstorm and Gears of War: Judgement, the new title could very well be a new shooter IP. Square Enix was recently criticized for breaking away from Hitman developer Io Interactive, leading outlets to believe the publisher is moving away from third-party external development to instead focus on safe money-making IPs like Final Fantasy and Dragon Quest.
However, the company's partnership with People Can Fly underlines Square Enix's continued desire to work with other studios to create games. Square Enix President Yosuke Matsuda said as much in a recent earnings briefing:
"It is also important to cultivate new titles, and for that reason we are also thinking about how tie-ups with external companies can help balance our mix."
Based on Square Enix President Yosuke Matsuda's recent quotes, People Can Fly's new game may be classified as a "mid-sized title" rather than AAA.
"In terms of the balance between in-house efforts and outsourcing, we intend to primarily develop our major franchises in-house and to outsource mid-sized titles," Mr. Matsuda said.
It's also possible that People Can Fly's upcoming game may be developed with recurring monetization in mind to ensure a long tail for earnings. In the same earnings briefing, Mr. Matsuda says that the publisher plans to embrace a games as a service model by incorporating key monetization strategies in their upcoming titles to bring long-term value for the company.
"Titles that have become global hits recently have tended to be offered via the "Games as a Service" model, and we believe this is going to be the mainstream model for gaming in the future. In developing future titles, we will approach game design with a mind to generate recurring revenue streams," he said.
Related Tags