Square Enix to embrace games as a service business model
Square Enix plans to double down on digital entertainment and find new ways to monetize their games with 'recurring revenue streams'

Published Sat, May 27 2017 2:18 PM CDT
|
Updated Tue, Nov 3 2020 11:55 AM CST
Square Enix is eager to embrace the games industry's gravitation towards the digital games as a service business model, and will bake in key features in its future games to ensure long-term monetization.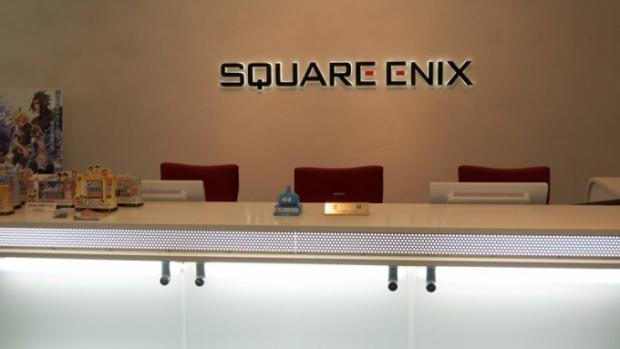 Today's games market is ruled by digital operations: big-name publishers like Activsion and EA are finding new and inventive ways to make money from digital online games via microtransactions and key engagement models. Square Enix wants its cut too, and the publisher has re-affirmed its commitment to the games as a service model, and will plan its upcoming slate of titles with revenue opportunities in the form of in-game purchases and other lucrative staples.
Square Enix recently held a fiscal year results briefing to break down its successes in last year's earnings, and outline future plans. According to Square Enix CEO Yosuke Matsuda, the Japanese games-maker will incorporate this business model into its games across all platforms--especially its smartphone and PC browser-based gaming segment. There's also plans to bring its arcade games to the entire global gaming audience via digital online game streaming.
"Titles that have become global hits recently have tended to be offered via the "Games as a Service" model, and we believe this is going to be the mainstream model for gaming in the future," Matsuda affirmed. "In developing future titles, we will approach game design with a mind to generate recurring revenue streams."
To help facilitate its new focus, the company plans to offer digital streaming its arcade-based games library such as Dissidia Final Fantasy and its Lords of Vermillion series across the globe. We suspect Square Enix will monetize this as a subscription service and let Western gamers play certain titles they've been missing out on. This would tap games as media rather than games as a service, however.
"From the perspective of "Games as Media," we note the strong demand for the streaming of game contents and intend to unlock new potential for our arcade business by streaming arcade game play globally," Matsuda said.
Some of Square Enix's key games as a service titles include its subscription-based MMOs Final Fantasy XIV and Dragon Quest X, as well as its myriad of successful mobile and PC browser games like Final Fantasy Brave Exvius, Bravely Default Fairy's Effect, and Dissidia Final Fantasy: Opera Onima.
The publisher may even roll out more subscription-based services based within its wealth of IPs and entertainment contents.
In order to further manifest this model, we predicted that Square Enix may choose to roll out its own Steam-like digital storefront that spans all platforms, complete with store client software.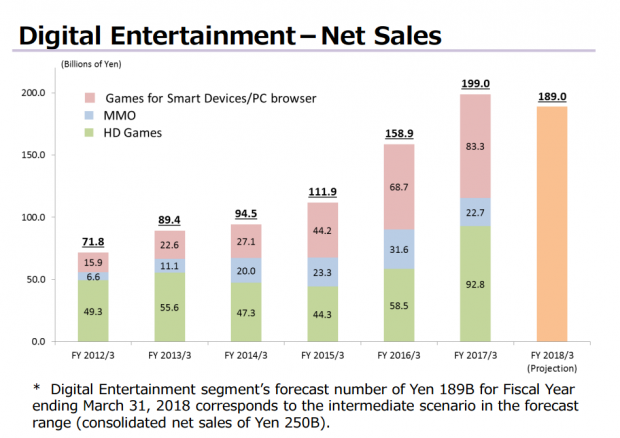 The company reported lucrative yearly earnings and its HD Games sector--which includes physical and digital games across PC, mobile/browser, and consoles--is by and large its most profitable branch.
In its Fiscal Year 2017, the publisher reported $1.75 billion (199 billion yen) in digital net sales, with HD Games accounting for 46.6% of total digital net sales with $819.2 million (92.8 billion yen). However the mobile sector is extremely profitable for the publisher, and mobile/browser games pulled in 41.4% of total digital net sales with $735.3 million (83.3 billion yen).
What to expect
So what should we expect from Square Enix in the future?
More of the same: mobile games, browser games, and other online-based ventures embedded with recurring monetization paths to ensure players have plenty of opportunities to spend on in-game purchases. We'll likely see the publisher experiment with more microtransactions in key AAA titles, such as the skill-packs in Deus Ex: Mankind Divided.
Square Enix says it wants its digital storefront to go online around September 2017, so keep an eye out for that.
Furthermore, we'll likely see more subscription-based services offered by the publisher that bring a slew of digital content to gamers across the globe, and the publisher may even fold its classic retro library of games and IPs into the mix as well.
We very well could see Square Enix launch its own version of Sony's PlayStation Now game-streaming service, which charges a monthly fee to play a catalog of older games streamed from online servers.
Related Tags