New Far Cry and Assassin's Creed coming in 2017
Ubisoft will release four AAA games this year including Far Cry, Assassin's Creed, South Park, and The Crew.

Published Wed, May 17 2017 7:11 AM CDT
|
Updated Tue, Nov 3 2020 11:55 AM CST
Ubisoft has now officially confirmed a new Far Cry and Assassin's Creed game will release in its Fiscal Year 2018 timeline, which extends from April 2017 - March 2018.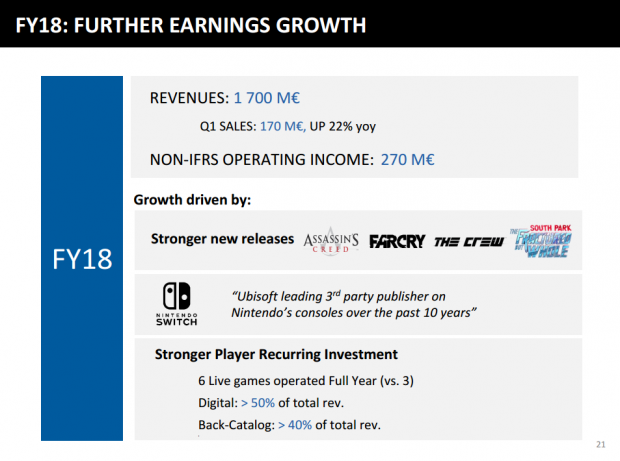 Ubisoft today filed its financial earnings for last year, and delivered a roadmap for upcoming releases for 2017 and beyond. The company announced that it will release four AAA games this fiscal year: Assassin's Creed, Far Cry, The Crew, and South Park: Fractured But Whole. Before you get too excited, Ubisoft says that FY2018 will have stronger emphasis on recurring player investment, which translates to microtransaction spending--so expect all of these games to have some sort of live service with microtransactions.
The French games entertainment company expects to make $1.88 billion (1.7 billion Euros) this year, strongly bolstered by digital sales and recurring player investment.
Since Ubisoft will manage six live titles this year versus three last year, we may see extensive online components added the four AAA releases planned for this year. Far Cry and Assassin's Creed have always had some sort of online component, the former having co-op or multiplayer, and the latter having in-game purchases. We should see both games embrace those two different digital revenue-earning strategies this time around.
The new Assassin's Creed game is rumored to take place in Egypt, have staggering depth with a massive level of new content and features, and may be called Assassin's Creed: Origins.
Far Cry 5 was rumored to be a spaghetti western that takes place in the Wild West, however it's possible the live-action video that sparked the rumor is just an advertisement for Call of Juarez. If Far Cry 5 was a Western game, it'd be completely smashed by Rockstar's upcoming Red Dead Redemption 2, which is also coming this year.
Digital content is expected to make more than 50% of Ubisoft's revenues and earnings from its back catalog of games--such as Rainbow Six: Siege and The Division--are expected to rise further.
Finally, Ubisoft pledges to release new games on Nintendo's new unique transforming console-handheld Switch platform, but no information was delivered in the financial briefing.
"Over the last three fiscal years, Ubisoft has - with remarkable success - created numerous new brands and rebooted Rainbow Six and Ghost Recon. These successes have strengthened our visibility for the coming two fiscal years, with a line-up of releases principally comprised of established franchises. In 2017-18 we will see the exciting returns of Assassin's Creed, Far Cry, The Crew and South Park," said Ubisoft CEO and co-founder Yves Guillemot.
Keep a look out for more Ubisoft content today--the financials are packed full of info and we'll be dissecting it for a while.
Related Tags