Project Scorpio 4K vs 1080p side by side comparison
Microsoft demonstrates the massive differences between Project Scorpio's native 4K and supersampling versus Xbox One's 1080p.
Published
6 minute read time
With its new Project Scorpio console, Microsoft promises to deliver a premium 4K system that sits at the top end of the Xbox One hardware spectrum. Now for the first time we get to see actual visual results of Project Scorpio's graphical prowess.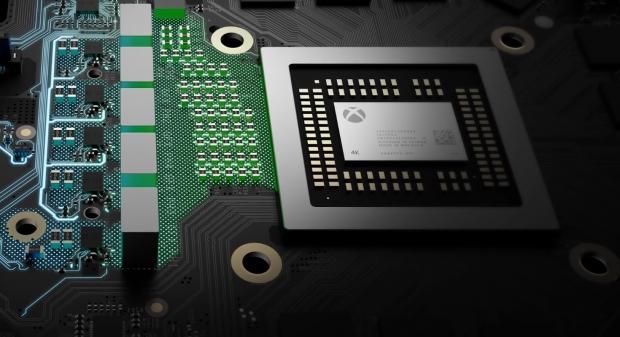 Microsoft recently invited key publications like Windows Central to a private event to show how Project Scorpio compares to Xbox One in terms of fidelity. As you might've guessed, the differences between native 4K and 1080p are quite substantial, but Project Scorpio isn't just a 4K machine: regular 1080p HDTV owners will benefit from the console's supersampling which takes a 4K image and downsamples it to fit a 1920 x 1080 display for better visuals.
Sadly, Microsoft didn't show actual games in its side-by-side showcase, instead opting for tech demos. Below we have the first side-by-side with Xbox One at 1080p on the left, and Project Scorpio in 4K resolution on the right.
Not planning on upgrading to a 4K HDR display? As you'd expect, Project Scorpio looks better than Xbox One at 1080p due to supersampling, which is made possible thanks to its hefty GPU and CPU upgrades and fully customized hardware synergy.
One of the most unique things about Project Scorpio is that it'll run all existing Xbox One games better without any kind of upgrades, downloads or updates. Just put in an Xbox One game and bam, the system automatically scales its hardware to tune-up in-game performance, tightening frame rates and improving texture filtering.
But to get the most of your experience and run Xbox One games in native 4K, you'll need to download 4K asset and texture packs (think of the Forward Compatibility updates on PS4 Pro).
What if you don't download the 4K upgrades? Remember, not all developers will release 4K upgrades for their games. How will a non-patched game look on a 4K display running on Project Scorpio?
Microsoft has your answer in the following side-by-side both of which are running on Project Scorpio.
The left-hand picture shows native Xbox One assets on a 4K display, and the right side has been patched with 4K assets. There's a dramatic difference between the two, and heavily incentivizes developers to push out 4K patches for their games.
Remember that these side-by-sides aren't actual Xbox One games and are tech demos made specifically for this demonstration. All Xbox One games are different, and we can't expect every game to perform with similar visuals (especially the ladybug pictures).
Developers also have the final say whether or not their games get 4K enhancement patches on Project Scorpio, and even if their games do get the updates, it's also up to devs how they use Project Scorpio's highly customized hardware.
But Project Scorpio is significantly easier for developers this time around. Microsoft has armed devs with a suite of tools and software to match the system's higher-end hardware; for example, the Forza devs at Turn10 ported Forza 6: Apex to Project Scorpio in just two days time. And of course the devs also hit an insane native 4K 60FPS at Ultra PC equivalent settings on Project Scorpio using only 88% of the customized GPU.
We expect devs to do some amazing things with Microsoft's new 4K Xbox, and Microsoft will no-doubt showcase some impressive surprises at E3 2017.
Project Scorpio is slated to release Holiday 2017, and will be officially revealed at E3 in June. Check out everything we know about Project Scorpio with the huge content index below:
Project Scorpio confirmed specs
SoC: Highly customized 360mm² AMD System-on-Chip built on 16nm FinFET
GPU: Polaris-derived GPU with 40 Compute Units at 1172MHz, 6TFLOPs of Compute Performance
CPU: Custom x86 "Jaguar Evolved" 8-core CPU at 2.73GHz, 4MB L2 cache
Memory: 12GB GDDR5 memory with 326GB/s bandwidth (12x 6.8GHz modules on a 384-bit bus)
Storage: 1TB 2.5-inch HDD
Media: 4K UHD Blu-ray player
Project Scorpio coverage index
Related Tags