Intel's IDF event is no more, company shifts strategy
Intel has cancelled IDF 2017 and all future IDF events as company looks to shift strategy.
Published Mon, Apr 17 2017 1:45 PM CDT
|
Updated Tue, Nov 3 2020 11:55 AM CST
Moving from a PC-centric company to a more datacenter driven one, Intel recently announced that IDF 2017 will be cancelled, and that going forward there will be no more Intel Developer Forums.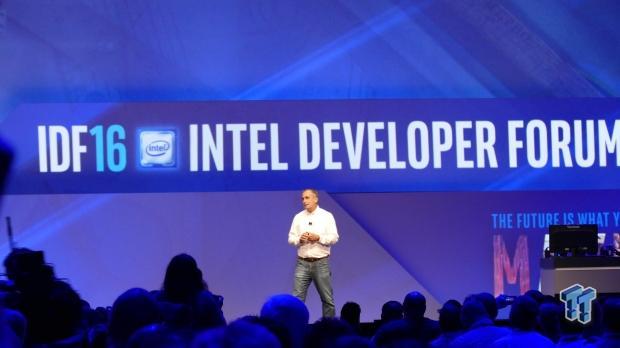 Instead, Intel has told us that they will focus on a broader range of industry events. Going forward, TweakTown was told to expect more events such as Intel's Technology and Manufacturing Day and Intel's Artificial Intelligence Day. Intel also told us to expect a more pronounced presence at events, where we don't typically see Intel, such as SXSW and even the LA Auto Show.
This pronounced shift in Intel's strategy comes on the heels of Intel's latest restructuring announcements. IDF has been one of the staple events of our industry, but it was clear that in the past few years the event had shifted from mostly PC-focused to 5G/IoT/DataCenter/PC/AI/etc. focused. Last IDF, we saw technologies from almost every corner of the industry, three days almost wasn't enough to see everything.
The Intel Developer Forum has been around for almost 20 years, with the first conference taking place in 1997. As a journalist, I am saddened by the news since I have been going to every Fall IDF in San Francisco for more than five years, and it's one of the places where you can get briefed on everything from the latest PCI-E standards to Intel's latest microarchitecture. It's also where multiple products were launched and revealed, such as Skylake and Optane. It was an important event because it brought together Intel engineers and product teams with media, analysts, and Intel's partners in a fun and bright environment. It's one of the more technical events that we attend, and while we are saddened to see it go, we hope that other events can replace it.
The one thing to take away from IDF's cancellation is that Intel wasn't joking about changing company strategy to meet the needs of an ever-changing market.
Related Tags