BioWare Austin working on new IP, not KOTOR remaster
BioWare's classic Knights of the Old Republic RPG probably isn't getting remastered--BioWare Austin is busy with the new IP.

Published Tue, Apr 11 2017 9:13 AM CDT
|
Updated Tue, Nov 3 2020 11:56 AM CST
Sorry to burst your bubble, but it looks like Star Wars: Knights of the Old Republic isn't getting remastered after all.
Most of BioWare's studios are currently ramping up for its new IP, which I predicted will be EA's unique answer to Destiny (and I wasn't alone in that prediction). This new IP will be the biggest project BioWare has ever taken on in its storied history, and will culminate in a "clean sheet design with new concepts, new gameplay mechanics, and new stories set in a unique universe" with tons of action-adventure "genre-melding."
Kotaku's Jason Schreier Tweets that most of BioWare Austin, the studio rumored to be working on KOTOR's remaster, is currently working on the new IP alongside the company's principle Edmonton-based studio. Remember that BioWare Austin also helms development of the Star Wars: The Old Republic MMO, strongly hinting that the new IP will have distinct MMO-style elements. We spotted clues long ago that the new IP would have extensive online components, and with BioWare Austin in the mix, it could be much bigger than we originally thought.
"Don't get your hopes up about this KOTOR rumor. I hear it's old info and BioWare Austin is mostly on the new IP," Schreier, who has a pretty great track record when it comes to industry rumblings, said on Twitter.
Now, I don't mean to stomp on your dreams (I want a KOTOR remaster too, but not from BioWare), but it certainly makes a lot more sense to have BioWare Austin help facilitate the new IP's extensive online multiplayer framework and persistent, dynamic in-game worlds instead of embarking on an epic and winding remaster of a classic game. Remastering KOTOR would be no easy feat, especially given fans' expectations. It'd be a massive endeavor to say the least, and such a project would split the studio's efforts into three parts--KOTOR remaster, new BioWare IP, and Star Wars: The Old Republic.
BioWare Austin's skills and MMO proficiency will come in handy with the new IP, especially with the game's huge online backend infrastructure to look after.
The new IP is the biggest project that BioWare has ever taken on, and has been in the works since 2012--in fact, this game likely represents that "gigantic action game" EA has always wanted to do. So it's fair to say that BioWare needs all hands-on deck to help build this game.
The KOTOR remaster rumor was spread by YouTuber Liam Robertson, who also recently spread around reports that the new IP would be "Destiny meets The Division", but anyone can come to the same conclusion reading BioWare's official quotes and descriptions of the IP.
We've included the most apt quotes from BioWare concerning their new IP below, taken from our previous coverage.
Of course be sure to check out my "why I'm worried about BioWare's new IP" opinion piece as well, if only to help gauge and ground your expectations (especially after the disaster that was Mass Effect: Andromeda).
"We're trying to build a fictional world that feels real and is alive and is constantly changing."
EA CFO Blake Jorgensen goes on to heavily hint the IP will have strong online-based multiplayer elements, not unlike an MMO:
"This game has the potential to fundamentally disrupt the way people think about an action title, bringing friends together to play in exciting new ways. We're very excited about the future of this new franchise and its ability to attract a larger global audience."
When asked if the new IP would be an RPG, EA CEO Andrew Wilson answered with the following:
"About the new BioWare IP...I think you mentioned it was action/adventure in the description. Is that an RPG game and should we assume that from BioWare's history? And is that a wholly-owned IP or is that a royalty-bearing IP?"
"It's action-adventure, not RPG. So what we're starting to see more and more in games is kind of genre-melding, which is great components of a number of different genres really coming together in a single game.

"So when you're thinking about this game you should be thinking about the great RPG character development and storyline progression that BioWare is known for, but in a world of greater action and greater adventure. Which is growing to be the largest categories of games.

"It will be a wholly-owned IP and we're very excited about it and we'll share more in the year to come."
BioWare's Aaryn Flynn informs fans about the new IP:
"Hi everyone,

"As we're working hard to finish Mass Effect: Andromeda, I wanted to take a minute to talk about our new IP. As our CEO Andrew Wilson mentioned, we're creating a unique IP that will bring players together in exciting new ways.

"There's much more to say in the coming months, but for now, I wanted to offer this additional background.

"In 2012, we began crafting a new universe full of new characters, stories, and gameplay. Our ambition is simple: Draw upon 20+ years of development knowledge and lessons to create something fun and new for you to enjoy with your friends.

"There's nothing quite as exciting as building a new IP from scratch, and it will be even more thrilling for us to share more with you in the future.

"Thanks,

"Aaryn"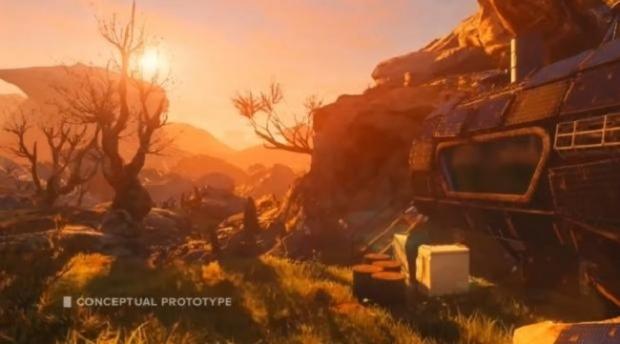 Related Tags