Project Scorpio only takes 1% perf hit with 4K assets
Switching from 1080p assets to native 4K assets on Project Scorpio only takes a smidgen of performance.

Published Mon, Apr 10 2017 7:46 AM CDT
|
Updated Tue, Nov 3 2020 11:56 AM CST
Microsoft has already proven that Project Scorpio can indeed scale 1080p Xbox One games to full native 3840 x 2160 4K resolution, in part thanks to the console's 6 TFLOP Polaris-derived GPU and the multitude of tweaks, customizations, and adjustments throughout the entire system. But 1080p assets are much, much lighter than native 4K assets, and anyone who games in 4K can tell you those art assets get quite huge. Being a machine made specifically to hit native 4K gaming, Scorpio only takes a marginal performance hit switching to 4K assets.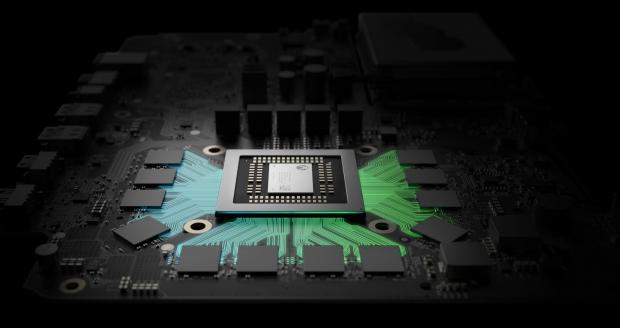 Just in case you're unfamiliar with how Microsoft's new Project Scorpio works, here's a quick run down. The system is built to scale up Xbox One games from 900p and 1080p to full native 4K resolution, and then utilize native 4K game textures and art assets to match the game's scaled resolution. Xbox One games will need specific patches and adjustments to hit the full 4K experience--textures and resolution--and games built on DirectX 12 will enjoy significantly better CPU performance. We've already seen a tech demo equal to Forza Motorsport 6: Apex (which runs on DX12) hit native 4K 60FPS at normal Xbox One settings (high preset) with only 66% of the GPU used. Digital Foundry confirms that the game can still hit 4K 60FPS even with settings equal to PC's Ultra settings with about 80-100% of the GPU used.
Switching from 1080p assets to 4K textures and assets is one of the major halves of Project Scorpio's 4K-ready gaming, so it's quite important the switch doesn't take away too many resources to accomplish. In fact, swapping to 4K assets only hits Scorpio's performance by 1% in specifically optimized games. According to Digital Foundry's Richard Leadbetter, this hit is negligible: "Turn 10's software architect Chris Tector told me that swapping between 1080p and Ultra HD assets has around a 1% hit to performance. Basically margin of error then."
But remember Turn 10 showcased a tech demo of the ForzaTech's engine, and not a final game. All of this information is based on that demo, which was scaled to resemble an "Xbox One port" using native 4K art assets and textures. Sure that's damn impressive for the console itself, but also bear in mind that Turn 10 has direct access to all of Microsoft's potent and flexible first-party tools and DX 12 API tweaks to help manifest the best possible experiences on the console.
Other developers may not push their games as hard, especially if they have multi-platform releases. I'd really like to see more performance scenarios on third-party games, maybe even Shadow of War, which will be optimized in favor of Scorpio's hardware.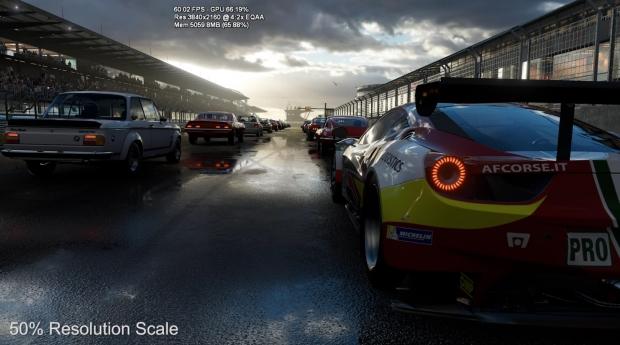 But for now, all we have is first-party performance results from an engine tech demo that hit native 4K 60FPS. I don't doubt that Forza Motorsport 6: Apex can indeed hit those results with GPU power to spare, but as we all know, there's a looot more games on Xbox One than Forza 6 Apex.
In any case, be sure to keep checking back on TweakTown for more Project Scorpio coverage. We'll do our best to stay up to date on the latest, and for now be sure to check out or growing list of Scorpio content.
Project Scorpio confirmed specs
SoC: Highly customized 360mm² AMD System-on-Chip built on 16nm FinFET
GPU: Polaris-derived GPU with 40 Compute Units at 1172MHz, 6TFLOPs of Compute Performance
CPU: Custom x86 "Jaguar Evolved" 8-core CPU at 2.3GHz, 4MB L2 cache
Memory: 12GB GDDR5 memory with 326GB/s bandwidth (12x 6.8GHz modules on a 384-bit bus)
Storage: 1TB 2.5-inch HDD
Media: 4K UHD Blu-ray player
Check out all of our technical Project Scorpio coverage here:
Related Tags