Here's what CD Projekt RED's 'Cyberpunk' trademark means
CD Projekt RED explains its intentions behind its recent 'Cyberpunk' trademark.

Published Thu, Apr 6 2017 5:18 PM CDT
|
Updated Tue, Nov 3 2020 11:56 AM CST
CD Projekt RED recently caught flak for trademarking the word "cyberpunk" to accommodate it's massive upcoming game Cyberpunk 2077. Now the studio clarifies exactly why it made the trademark, and promises not to use the trademark as a sledgehammer to smash other games and studios.
"We want to protect our hard work and we don't plan on using the trademark offensively. It's a self-defense measure only," CD Projekt RED writes in their official explanation.
The devs have spent an incredible amount of time, money and effort into the project so far, and the game itself will be the biggest project they've ever taken on--much bigger than The Witcher 3. The studio will spend the next four years working on the game, dedicating a huge portion of its staff--some several hundred people--to the goal, all while incorporating high-end next-gen technologies.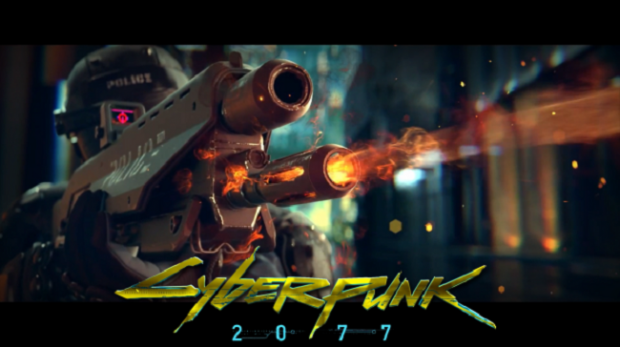 "Cyberpunk 2077, the game we're working on based on these pen-and-paper systems, is a massive project and we've alread invested a lot of ahrd work and resources into making it the base game we can. We have to ensure that we will be the only entity that can use its exact name and naming scheme," the studio writes in its explanation piece.
"Life knows quite a few examples of companies registering marks similar to well-known marks, and then trying to sell them for big money. Should we ever decide to create a sequel, there's a possibility of someone telling us we can't name it, say, Cyberpunk 2078 or Cyberpunk 2. Moreover, if someone else registers the trademark in the future, they could prohibit CD Projekt from making any expansions to the game, any additional titles under the name Cyberpunk. The reason for our registration is to protect us from unlawful actions of unfair competitors."
CD Projekt RED essentially just wants to protect their investment and ensure their time isn't interrupted by any expensive court cases or trademark infringements. There's no malevolence or "evil plan," just one of the most respected studios trying to protect themselves and make sure their progress isn't wasted.
Cyberpunk 2077 is expected to launch by 2021 alongside an unannounced triple-A RPG.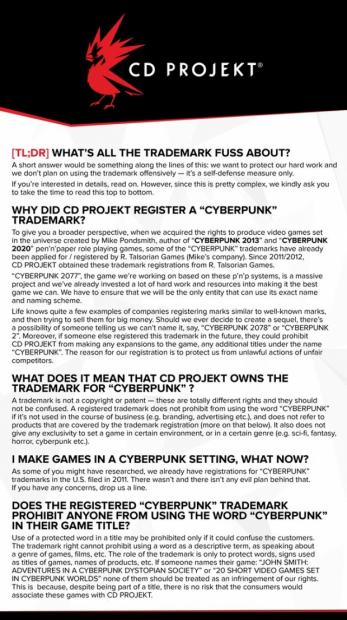 Related Tags