What Mass Effect: Andromeda teaches us about hype
With Mass Effect: Andromeda, BioWare taught us an important lesson about hype.

Published Mon, Apr 3 2017 9:00 AM CDT
|
Updated Tue, Nov 3 2020 11:56 AM CST
Yes we've been picking on Mass Effect: Andromeda a bit lately, but on the Mass Effect Reddit I came across an interesting tidbit that genuinely serves as a cautionary tale about hype. And this one is pretty ironic.
Back in 2016, BioWare's Mac Walters told OXM that the animations are at an "all time high" for the company as a whole. "The quality of the character animations is at an all-time high for us, and that's great because it means expressiveness, emotion and a connection with the player," Walters said.
Fast forward to the final release of the game with its terrifying, often wacky and freakish facial animations, this quote seems entirely ridiculous. And I'm not innocent in spreading hype for this game--I've written tons of articles talking about how impressive it looks and how excited I am for it. But all of that content seems to be written about a different game, the vision that BioWare had versus the janky game they shipped.
But of course I had my doubts.
One of the industry's most recognized animators and ex-Mass Effect dev Jonathan Cooper recently offered some explanations of what probably went wrong with the game. Essentially what it boils down to is the game is simply unfinished and needed many more months of polish and refinement before it was shipped out.
Animating an RPG is a really, really big undertaking - completely different from a game like Uncharted so comparisons are unfair.

Every encounter in Uncharted is unique & highly controlled because we create highly-authored 'wide' linear stories with bespoke animations.

Conversely, RPGs offer a magnitude more volume of content and importantly, player/story choice. It's simply a quantity vs quality tradeoff.

In Mass Effect 1 we had over 8 hrs of facial performance. In Horizon Zero Dawn they had around 15. Player expectations have only grown.

As such, designers (not animators) sequence pre-created animations together - like DJs with samples and tracks.

Here is the Frostbite cinematic conversation tool circa Dragon Age Inquisition. (Source: https://www.frostbite.com/2014/08/creating-biowares-first-rpg-on-the-frostbite-engine/ ...)

Here's the cinematic conversation tool for the Witcher 3. Both tools make it fast to assemble from a pool of anims.

Because time denotes not every scene is equally possible, dialogues are separated into tiered quality levels based on importance/likelihood.

The lowest quality scenes may not even be touched by hand. To cover this, an algorithm is used to generate a baseline quality sequence.

Mass Effect 1-3 populated default body 'talking' movement, lip-sync and head movement based on the dialogue text.

The Witcher 3 added to this with randomly selected body gestures that could be regenerated to get better results.

Andromeda seems to have lowered the quality of it's base algorithm, resulting in the 'My face is tired' meme featuring nothing but lip-sync.

This, presumably, was because they planned to hit every line by hand. But a 5-year dev cycle shows they underestimated this task.

(All this is exacerbated by us living in an era of share buttons and YouTube, getting the lowest quality out to the widest audience.)
Mass Effect: Andromeda has absolutely taught me an important lesson about hype. I'll take this lesson into consideration as a gamer and as a writer, and I'll try to keep some healthy skepticism about all games, especially hugely ambitious new titles in classic franchises.
We'll have our official Mass Effect: Andromeda video review up shortly, so be sure to subscribe to our YouTube channel to check it out when it drops.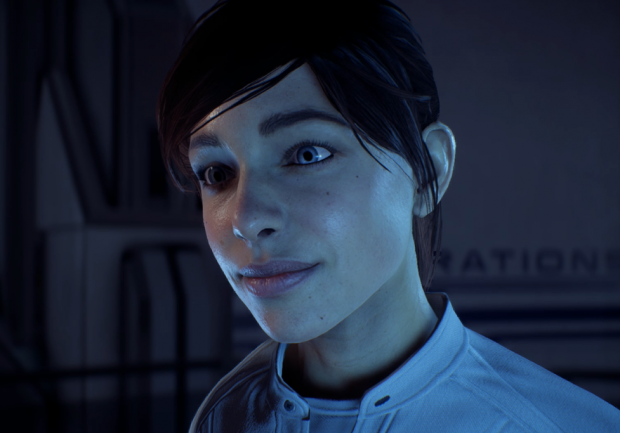 Related Tags