Project Scorpio 4K gaming: what you need to know
We break down Project Scorpio's 4K gaming and show how it's quite similar to the PS4 Pro in terms of functionality.
Published
8 minute read time
With buzzwords like "True 4K", promises of native 4K gaming, and reports of 4K 60FPS thrown around, Microsoft's new "monster" Project Scorpio can be a bit confusing. But in reality it's not that much different than the PS4 Pro in terms of functionality...just a lot more powerful.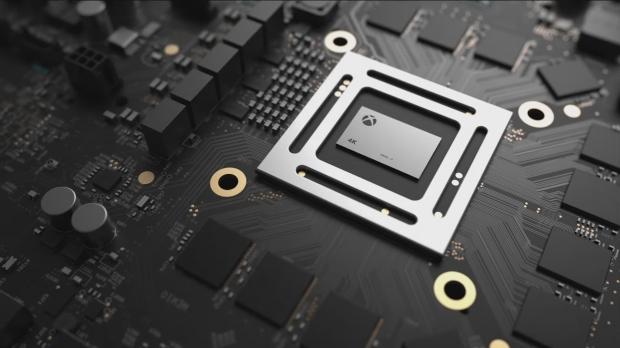 Project Scorpio is Microsoft's way of blurring the line between consoles and PCs by making the world's first real enthusiast-grade system. While Project Scorpio's specs are impressive, with the box housing a custom AMD SoC with a 6 TFLOP GPU and an 8-core CPU likely built on its new 14nm Polaris/Vega GPU and Zen CPU architectures, the software side is just as important. Thanks to Windows 10's Universal Windows Platform and the beefy specs, Microsoft has an substantial edge in both halves.
Project Scorpio is an iterative console that will play all existing Xbox One games. But just like the PS4 Pro, older Xbox One games will play better on Project Scorpio thanks to dynamic frame rate and resolution upscaling. And even though Project Scorpio is designed for 4K gaming, regular 1080p HDTV owners will still benefit thanks to super-sampled resolution. Here's how it works.
Windows Central affirms that Project Scorpio will have a "sizable library of 4K games" thanks to its new Change Resilience feature.
This new feature allows developers to scale older Xbox One games that uses dynamic resolution scaling, such as Halo 5, all the way to 4K resolution--albeit with variable frame rate vs resolution trade offs.
Dynamically scaled Xbox One games will be automatically optimized, and Project Scorpio will tighten up the FPS to ensure more consistent higher frame rates and resolution targets are met, not unlike the PlayStation 4 Pro's new Boost Mode feature.
Project Scorpio confirmed specs:
6 TFLOPs of performance

320GB per second memory bandwith

8 CPU Cores
Project Scorpio Hardware Predictions:
CPU: 8-core Zen CPU
GPU: Based on a highly-customized form of AMD's new 14nm Polaris and/or Vega architectures to hit native 4K gaming
RAM: 12GB of GDDR5 unified system memory clocked at 320GB/s
Using the flexibility of Windows 10 UWP and Project Scorpio's Xbox Development Kit platform, developers can bake in 4K resolution + HDR textures and assets to be deployed only on Project Scorpio systems. We don't want normal Xbox One gamers downloading massive 4K texture packs after all.
Essentially these 4K asset downloads will be the console's version of the PS4 Pro's Forward Compatibility enhancement patches, which enhanced existing games with 4K upscaled graphics and textures.
But Project Scorpio's patches will be much more potent and unlock a massive potential of impressive visual and in-game performance.
Read Also: Project Scorpio won't be $399, and here's why
Also remember developers won't have to push native 4K textures or content in their games. Microsoft says that developers have the choice in how they want to implement Project Scorpio's power, whether it be targets like 4K 30FPS, 1080p 60FPS, native 4K, or any combination of scaled performance frame rates and/or resolution.
This means that not all existing Xbox One games will actually leverage the console's total power...but you can bet that all first-party Xbox One exclusives will be updated and patched to tap as much power as possible.
Microsoft will also super-sample in-game graphics for 1080p HDTVs. This means that older Xbox One games actually look better when played on Project Scorpio alongside an 1080p HDTV, even without HDR.
We're not yet sure how exactly Microsoft achieves its supersampling techniques, but Sony's PS4 Pro uses checkerboard rendering to upscale an image to higher resolutions and then downscale it to fit on 1080p displays. The results can lead to FPS drops and performance issues.
I'm confident Microsoft will find a way to streamline supersampling using its Windows 10 UWP framework and easy developer deployment toolset (and, of course, Project Scorpio's beefier hardware).
Read Also: Project Scorpio's GPU is 4.5x faster than Xbox One

Project Scorpio's DVR will also reportedly record at native 4K 60FPS, indicating that the system may be able to hit 4K 60FPS using some sort of internal magic.
However the console will be quite stressed hitting 4K 60FPS even with a 6TFLOP GPU, so if this is possible, it's likely at Medium-grade textures with quite a few trade offs behind the curtain.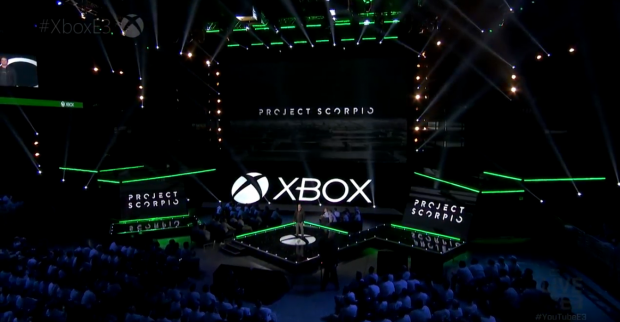 But will Project Scorpio deliver actual native 4K or just upscaled 4K?
Microsoft has confirmed the system can hit native 4K resolution and that devs can implement "no comprises" full 4K textures and assets into their games.
But how well this works out remains to be seen, and I have to wonder just how big the 4K texture/asset pack downloads will be. Microsoft's first-party games are already huge (ahem Gears of War 4 and Halo 5).
We expect Microsoft to drop more details in the coming weeks, including full specifications and actual explanations on how Project Scorpio will live up to the hype.
Project Scorpio will likely be revealed sometime before E3 2017 in June, with a full-on showcase at E3. The system will launch in Holiday 2017, and check below for a massive content index highlighting everything we know about the console so far:
Project Scorpio confirmed specs:
6 TFLOPs of performance

320GB per second memory bandwith

8 CPU Cores
Everything we know so far about Project Scorpio:
Related Tags