CES 2017 - This year, the Consumer Electronics Show was a massive overload of technology unveilings, announcements, teases, and more. There has been so much unveiled that it would take weeks to disassemble and dissect all of it - but this is why we have our 'Best of CES 2017' awards, and this article. Below we list the products and tech that were lucky enough to get our award.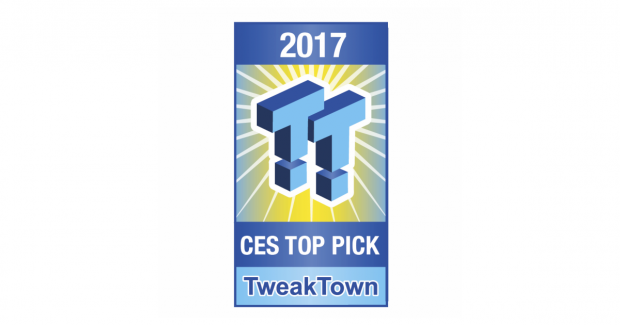 Let's kick things off with the CPU and GPU side of things:
CPU: AMD has impressed not just us, but gamers and consumers throughout the world with their next generation Ryzen CPUs. We're looking at 16-threaded CPUs that should hopefully come in at half the price of Intel's competing processors, offering new technologies like SenseMI - a self-overclocking, self-adjusting processor that learns how you use your system and predicts your next movement. Expect much more from us here at TweakTown on Ryzen in the coming weeks and months.
GPU: You have to hand it to Radeon Technologies Group, the upcoming Vega GPU architecture is beyond exciting. High Bandwidth Cache. HBM2 technology. The Vega GPU architecture itself. We're looking at 4K 60FPS performance in games like DOOM with all the graphical bells and whistles turned on. AMD is returning to the high-end in a very, very big way.
Motherboards: AMD wins our 'best CPU technology of CES 2017' but Intel went on the offensive with Kaby Lake and their motherboard partners with a near unlimited range of Z270 motherboards. GIGABYTE's new Z270X-Gaming 9 motherboard will be my new desktop gaming PC motherboard of choice, but ASUS impressed yet again with its high-end ROG Maximus IX Formula Z270. And so did ASRock with its new Z270 Taichi, and MSI with its beautiful Z270 XPOWER Gaming Titanium - all worthy choices for your new Kaby Lake CPU.
Laptop: Dell and Razer had some great laptops shown off at CES 2017, and this is why I've chosen two. Dell first as their next-gen XPS 13 and XPS 15 laptops are already here, with some of the higher-end SKUs shipping soon. Dell updated the new XPS 13 and XPS 15 with Intel's new Kaby Lake processors, continued the use of their beautiful edge-to-edge 1080p/4K display (the 4K option is an additional $300). The higher-end XPS 15 can even be configured with NVIDIA's new GeForce GTX 1050.
The second laptop worth mentioning is the ambitious Project Valerie from Razer, which has not 1 - but 3 damn 17-inch displays. I don't know how Razer continue to do it, but they do.
SOC/Mobile Tech: Qualcomm, by a long shot. The company unveiled their next-gen Snapdragon 835 processor, which is poised to take over the mobile market in smartphones and tablets later this year. Not only that, but we're getting our first teases of 5G technology - which is going to blow the world away. Qualcomm said during its CES 2017 press conference that current 3G and 4G technologies were designed before they knew what people would do with their smartphones - you know, before Netflix, YouTube, Facebook, and so on - 5G, is ready for it all. It's ready for 4K 60FPS streamed to your phone, and at up to 1Gbps. Yikes.
Not only that, but the new Snapdragon 835 processor is built on the 10nm process - meaning Qualcomm is the first to hit the 10nm node, which is an impressive feat. Qualcomm is the company I'm most excited for out of everyone from CES, as they'll have more of an impact on the entire planet and billions of consumers with their new processors, 5G technology, and more.
TV: LG is the leader in TV technology, it's that simple - and the South Korean giant continued that dominance with the unveiling of their latest W-series 4K OLED HDR-capable TV. An impressive feat, with a near impossibly thin bezel, and beautiful image quality - it's the new TV to beat in 2017.
Living Room: NVIDIA's new Shield TV. I use NVIDIA's current-gen Shield all the time, it's an amazing device - but NVIDIA doesn't stop, so it made the new Shield even better. It's HDR-capable, 4K-capable (like the current-gen Shield), has the Shield Remote in the box (versus being an accessory), and has Google Assistant built-in. You can search for shows on Netflix by talking to it, and Google Assistant responds with much more realistic, human responses.
Keyboard: Corsair has been killing the peripherals game for years now, and heck - I'm typing up this post on their Vengeance K95 RGB keyboard. It's a pleasure to use, but the new K95 RGB Platinum keyboard? Oh gosh. That reminds me, I've got to email Corsair and ask for some new keyboards...
Monitors: Holy crap was CES 2017 a massive year for displays... NVIDIA went the whole hog and unveiled two totally next generation gaming displays: 4K resolution, 144Hz refresh rate, G-Sync refresh technology... and HDR. They sound great on paper, but in person the ASUS ROG Swift PG27UQ and the Acer Predator XB272-HDR are absolutely stunning. It will redefine what you think is a high-end monitor, and some. You simply need to see it in person to believe the leap it represents.
General Tech: NVIDIA's advancements (AI Car) in self-driving car technology are always fun to see at CES, but it scares me to think where we'll be at CES 2018, 2019, 2020 and beyond - scares me, in a good way.
Qualcomm also gets awarded for its impressive 10nm processor technology.
VR: HTC Vive, as always - it hasn't changed. Oculus were nowhere to be seen at CES. They're probably scared, but HTC has been killing the VR scene with the Vive - if you haven't got one, you need to try it. The future of VR is going to be huge.
Storage: Kingston wants us all to have 2TB on a USB stick with their impressive new DataTraveler USB 3.0 flash drive. 2TB in your pocket allows for hours upon hours of 4K footage, emergency (and fast) storage, and so much more.